While trying to restore your iPhone, iPad, or iPod Touch, you may get a depressing error from iTunes: iTunes could not restore the iPhone because the backup was corrupt or not compatible with the iPhone that is being restored.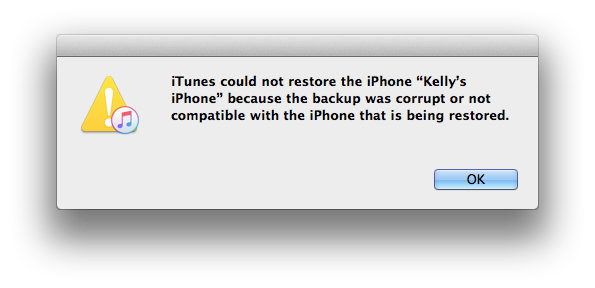 Truth be told, the problem is rarely a compatibility issue. You can restore iTunes backups across different device types (like an iPad backup to an iPhone and vice versa.) You can restore just about any backup as long as your target device has the same or newer version of iOS as what made the backup. That leaves us with option one: the backup is corrupt.
Our Decipher Backup Repair software repairs the broken parts of your backup, so that you can restore the backup without errors. Take a look at our customer reviews; we're thrilled to help a lot of people get their precious photos, contacts, notes, documents, and other important data back.
If you're moving devices, and still have the original device with the data intact, you can delete the previous backup and make a new one.