This week I've been experimenting with the new app VaporChat, to see how much of Vapored and deleted information sticks around on your iPhone after it's deleted. In my experiments all of my vapored and deleted photos sent or received through VaporChat are recoverable from my iPhone backup, both in large and thumbnail size.
Here's a little preview of my recovery experiments, showing some lovely not-flattering photos of myself while I was testing: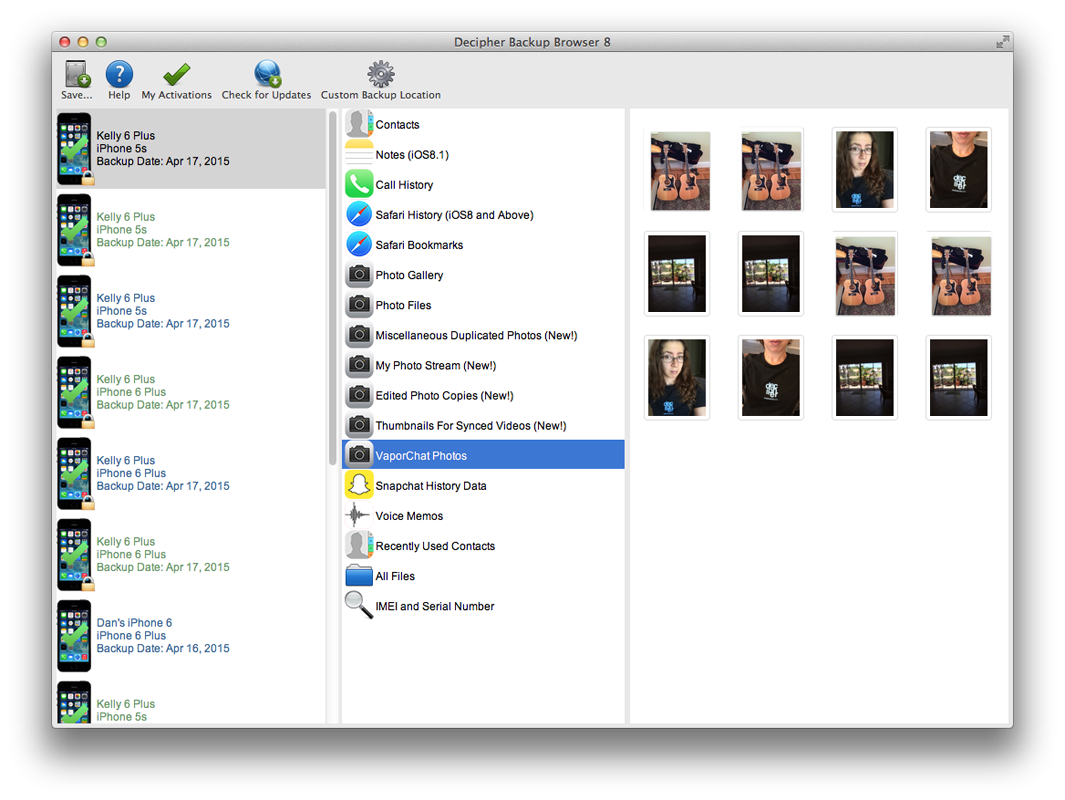 If you'd like to see what VaporChat photos are recoverable from your iPhone, here are the steps:
Download the free trial of Decipher Backup Browser from our website, and install it.

If you don't already have a recent backup of your iPhone (or iPad/iPod Touch, whatever device you want to recover from), make a new backup in iTunes now.

Run Decipher Backup Browser, and select your backup from the left column.

If the option "VaporChat photos" appears, there are photos stored in the VaporChat section of your iPhone backup. Click the VaporChat photos option from the center column. (If you have encryption turned on for your backups in iTunes, you'll need to enter the backup password now.)

Review your results. Photos that are not deleted in the app should appear, but in our experience, all of the photos appear, deleted or not.
I assume that this is a database trigger bug that will be fixed in a future update to VaporChat, much like the same bug that existed in the iOS Messages app for a long time.
I'll also be looking at recovering deleted text from the VaporChat app, so leave us a comment or contact us if you're interested in recovering the actual text message content from VaporChat, so I know to experiment faster(!), and so we can followup when we have an update ready.