Decipher Backup Browser
Version 8 - Windows and Mac
View and save files from your iPhone backup. Never lose important data again!
Only $29.99


Browse the contents of your iPhone backup!
Lost your iPhone contacts? Decipher Backup Browser lets you access your contacts via your last backup. Export them and restore address book on your iPhone via a vcf file.
View and save Call Log information!
View and save camera roll images, voice memos, notes, and other locally-stored app data.
View recent outgoing email and text message recipients! Works for email, SMS, and iMessage. Works even if the message is deleted!
Curious what kind of data is on your iPhone? Take a look around the backed-up data, such as your Safari browser history, maps data, app data, and device settings.
No jailbreaking required!
(And also works for jailbroken iPhones.)
iOS8 (and lower) compatible.
Supported Windows XP and above.
Supported for Mac OSX Leopard and above, including Mavericks and Yosemite.
Extracts serial number and IMEI number from your backup. Useful if your device is stolen and you need to file a police report. (Available in free trial.)
Software is good for installation on an unlimited amount of computers and for reading an unlimited number of backups. Each purchase comes with two free device activations.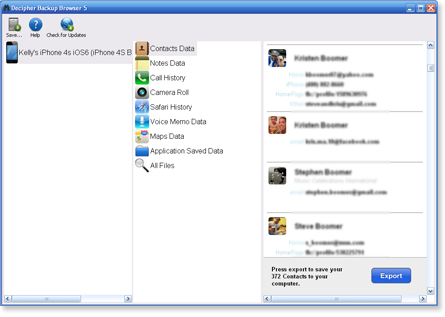 "May I compliment you on your customer
service. I'm sure I'm not your only
customer, but I feel like it!"
-Virginia
"Thanks again for the friendly and quick
support. Your product was the nicest one
I've tried and seems to work the best."
-Vince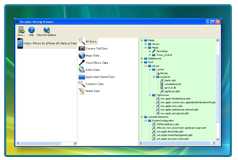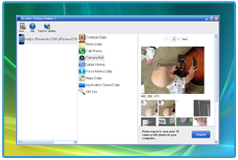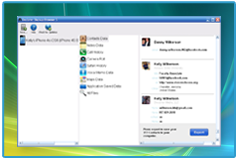 Decipher Backup Browser is software specifically developed to save files from your iPhone, iPad, or iPod Touch backups to your computer. You can recover camera roll photos, address book contacts, voice memo recordings, notes, and many more files from your iOS backup file. Additionally, Decipher Backup Browser runs completely on your computer, so your data remains private.
Here at Decipher Media, we understand the importance of your data. We love Decipher Backup Browser not only as product, but also for the many opportunities it has provided us to help people restore or access important information. If you have any problems with Decipher Backup Browser, or just have questions about your iPhone data, please feel free to contact us. Before contacting us via the support email, we ask that you read our FAQ since many helpful answers are available here.

System Requirements
Macintosh Version
Mac OSX

Operating System:

Yosemite, Mavericks, Mountain Lion, Lion, Snow Leopard.

Leopard (OSX 10.5) is supported for 64-bit machines only (How do I tell if I have a 64- or 32-bit machine?)


Intel x86, or x86-64 CPU
128MB of RAM
100MB free disk space
Recent version of iTunes
Device running iOS8, iOS7, iOS6, iOS5, iOS4, or iOS3
Windows Version
Windows 8, Windows 7, Vista, or XP

.
Intel x86, or x86-64 CPU
128MB of RAM
110MB free disk space.
Recent version of iTunes
Device running iOS8, iOS7, iOS6, iOS5, iOS4, or iOS3