Decipher Tools Software Refund Policy / Free Trial Information
No ratings yet.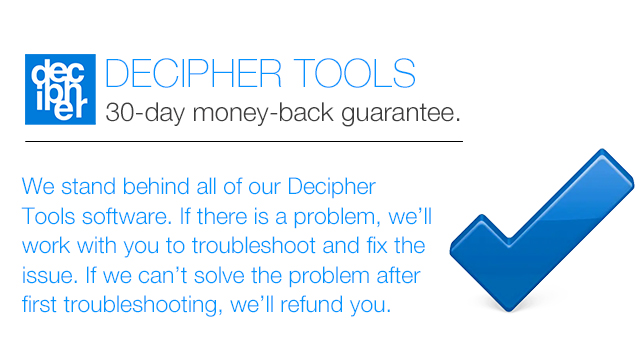 What is your 30-day money back guarantee or refund policy?
Our policy is that if you have any issues with any of our programs, we'll communicate with you and do our best to troubleshoot and fix the issues you are experiencing. If we can't fix those issues or bugs, then we refund you. Please contact us within the 30-day time period and explain to us the specific issue you are encountering.
Who should I contact if I want to request a refund?
You can contact us directly via our support page and we'll be happy to reply to you! Simply let us know what the specific issue is by filling our our support form and we will email you back to help. We respond to everyone during our normal business hours. If it's after business hours our time then we'll write you back the next morning!
I no longer have a use for the software, will you refund me?
Unfortunately we are unable to refund you if you successfully used one of our programs and simply want to have used it for free. The free trial of the software will give you a good feel for whether the program is right for your needs prior to purchasing the paid version.
I was already refunded once in the past for a Decipher Tools program. Will you refund me a second time if I purchase and I'm unhappy?
If you have already been refunded one for any of our programs, we are unable to process a second refund for you. Our refund policy is one per customer.
Do I have to pay for the free trial? Is your free trial good for 30 days?
The free trial of any of our programs is free and you can run the trial versions as long as you like. The trial versions never expire and you don't need to pay to use the free trial of any of our programs!
Is your software a subscription?
No. There are no monthly recurring fees with any of our tools.
I was charged twice for the software!
If you accidentally bought our software twice, contact us and we'll be happy to refund you for any extra purchase right away!
I don't recognize this charge on my credit card and I did not purchase your program! Can you help?
We'll be happy to help and we take this very seriously! Contact us via our support page and we'll write you back. We can also process a refund for you ASAP if the purchase was not authorized!
I'm nervous about buying the software. How do I know you are a real company?
We understand your concern about purchasing software online. We're a real software company based in the USA (San Francisco and Phoenix) and we're working hard to make helpful software tools for the iPhone and iPad. You can read testimonials from real customers here. Also, if you email us we'll be happy to reply back and answer any questions you have!