Repeatedly Seeing Device Not Trusted Error in Decipher TextMessage or Decipher VoiceMail
Rated (5.0 of 5.0) by 2 reviewers.

Windows
When using a Windows PC with the iPhone, there are two different permissions that can be granted: one is for transferring pictures and a few other items only, and this is a prompt to "Allow". The other is a larger set of permissions, for doing backups - on the iPhone it should be a button that asks you to "Trust" versus allow.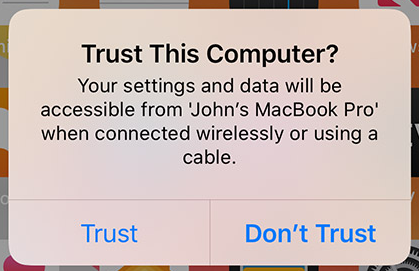 If your iPhone screen is currently locked, try unlocking your iPhone screen and see if the Trust dialog pops up now.

If not, please close Decipher TextMessage for now, unplug the iPhone from the PC.

If you have iTunes on the PC, open iTunes and plug in the iPhone - see if iTunes is able to reach the iPhone and get the Trust prompt going. Give iTunes a moment, and see if you now see an iPhone button in the upper left corner of the iTunes window. If so, close iTunes and try the backup in Decipher TextMessage again.

In a lot of cases, iTunes will also prompt for the Trust dialog, but then still not allow you to interact with the iPhone after you tap trust. If it's still now working, please unplug the iPhone, and then shut down the PC and the iPhone. (Turn off both the PC and the iPhone, so they are both off at the same time. Shutting down one, trying again, and then shutting down the other hasn't worked in our experience.) Use the PC shutdown option, not restart or reboot, and then power the PC back on. Likewise, shut down the iPhone completely. Here are instructions for how to shut down your iPhone in case they're needed.

When the iPhone and PC start up again please unlock the screen on the iPhone, and then try to see if the iPhone will connect and prompt the Trust dialog using iTunes again.

Once you get the trust dialog to appear and are able to grant trust, you can close iTunes and make the backup in Decipher TextMessage. You don't have to make the backup through iTunes. (But you can, if you prefer to do that, and your hard drive space allows for a full backup.)
Note that you should close iTunes each time you unplug your iPhone to try again and then reopen it after you plug the iPhone in. I've not had good luck getting iTunes to detect my iPhone if it's already open when I plug the iPhone in.
If it's still not working: Reading through some FAQ pages from Apple I've been reminded that other glitchy USB devices can interfere with the iPhone USB connection. If the above steps still don't help, try unplugging all of your other USB devices, close iTunes and unplug your iPhone, then plug it in again and open iTunes. This fix worked for me once recently. I unplugged my iPhone, then unplugged my USB-C external monitor, plugged in my iPhone and it instantly connected. (I plugged back in the monitor and the iPhone still stayed connected also, so if you use an external drive via USB that you need for doing the backups, you could plug it back in after the iPhone is recognized.)
iPhone Drivers on Windows Requires Installing iTunes
If you have never had iTunes installed on this PC you likely need to (temporarily) install iTunes either from Apple or through the Microsoft Windows app store to get the correct iPhone drivers installed on the PC. Unfortunately, the only way for the PC to have the right drivers needed for the trust dialog to work is for the iPhone is for iTunes to have been installed at some point. If you need to install iTunes now, we recommend closing Decipher TextMessage until after the install is finished.
After the DTM backup is made, you can uninstall iTunes by searching for "add remove" and selecting add/remove programs in the Windows search.
Mac
When using an iPhone with macOS, if you're getting an error that the device is not trusted:
Unplug the iPhone if it is plugged in now.

Close Decipher TextMessage if it is open now.

Plug in the iPhone, and open Finder, or iTunes on older macOS versions. (Even though we won't use it to back up, we can see if it is able to establish a connection.)

If/when Finder asks you to allow access to talk to your iPhone, follow its instructions to allow that. (Which may involve tapping the "Trust" button on your iPhone.) If Finder has to repeatedly ask for trust also, it's a USB glitch we see sometimes. In that case, please restart both your Mac and your iPhone and try again... that usually clears it up.

After the trust dialog is finished, close Finder and open Decipher TextMessage and try to back up again.
If you still get an error, please use the "Contact Support" button to contact us, which will also automatically fill in information about the error you're seeing in Decipher TextMessage.