How to Print iMessages from Mac
No ratings yet.

If you have iMessages on your Mac Messages app, you've noticed that if you try to print directly from Messages, you only get the past few days in your printed results. The desktop program Decipher TextMessage can help you print your entire Mac Messages app iMessage history or your SMS and iMessage text history from your iPhone/iPad/iPod.
Decipher TextMessage for Mac can import your Mac Messages app text message data, and help you create a PDF or printed transcript of your iMessages.
Detailed Steps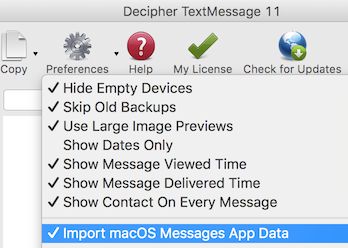 Follow these steps to print your Mac iMessages:
Click Preferences and enable Import macOS Messages App Data.
Close and then run Decipher TextMessage, and your Mac iMessages will be imported.
Select macOS Messages App in the left column and the contact whose messages your want to print.
Click Export > Export Current Conversation > PDF to save the conversation as PDF.
Open the exported PDF in Preview and select the File menu > Print.

Download Decipher Text Message


Some more FAQ articles you may find helpful:
If you need help saving or printing iMessages contained in the Mac Messages app on your computer, feel free to contact us and one of our Decipher Tools support team will get back to you from our San Francisco or Phoenix offices.