Get Insights About Your Teen's iPhone Screen Time Without Intruding
Rated (5.0 of 5.0) by 1 reviewers.

The next product we're working on is a tool for parents, but it's applicable to anyone that is interested in information about how an iPhone is used, when it is used, and how long it is used. Decipher Screen Time is designed to give insights about iOS device usage, without being overly invasive or opening up large privacy holes.
Decipher Screen Time works for iPhone, iPad, and iPod Touch devices running iOS 9.0 and higher.
What can Decipher Screen Time tell you?
When is the iPhone/iPad/iPod Touch in use? Are my kids using their iPod after I told them to go to bed or during school? How much am I on my iPhone during the evenings?

What apps are being used on this iPhone/iPad/iPod Touch? See what apps are used most on the device and read descriptions on the App Store to learn more about them.

How many hours was this device in use each day? See trends in overall device usage (screen time) at a high level.

Additionally, we're tinkering with some data about battery life, since that is always an interesting topic!
Knowledge Without Privacy Compromises
At the beginning of this post, I said Decipher Screen Time shows you iOS device usage information "without opening up large privacy holes." What do I mean by this? Many of the existing tools in this market are aimed at very closely viewing kids' device usage by logging in to social media accounts and iCloud accounts. This may give you too much information (i.e. reading every single Facebook post, making you crazy) and too little information (no information about trends, times, and what apps are being used) at the same time. Additionally (and most importantly) tools like this require you to provide them Facebook, iCloud, and other account credentials to monitor the accounts — this is not a privacy compromise you should be making.
Decipher Screen Time requires physical access to the device for a few minutes every few weeks. No account credentials — that is not information we want you giving to anyone, including us.
If you're interested in helping us test Decipher Screen Time, please
contact us
. Be sure to let us know if you're on Mac or Windows (so we know what version to send you), and if you have specific concerns you're interested in getting data for, please let us know that too.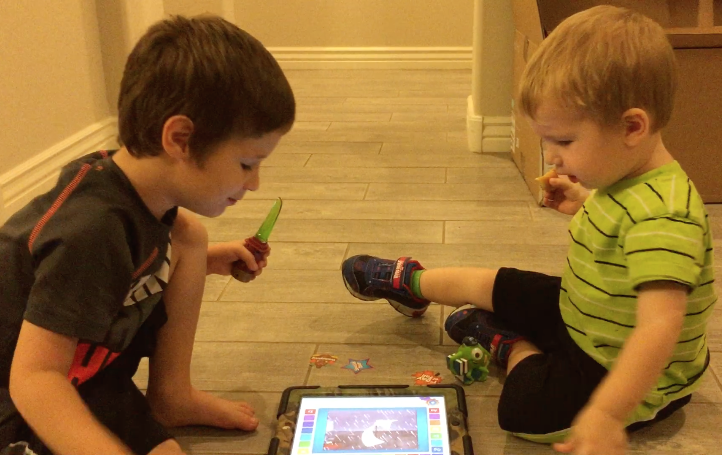 Here's a photo of my two kids, playing away on an iPad and eating candy...