How to Export iPhone Text Messages as a PDF Document
No ratings yet.

Have you ever been curious about how to save your iPhone text messages as a PDF document and print them out? Well today we're going to show you the quick steps on how to accomplish that task. Saving and printing text messages in PDF format is helpful for a wide variety of circumstances including for general business purposes, court or trial, family mementos, or just personal archiving of text messages between friends or loved ones. Let's get started:
Necessary items
Windows or Mac computer

iTunes - If you don't currently have iTunes on your computer you can access it here from Apple's official site.

Decipher TextMessage - The software runs on your computer and will read in all your text messages and photo / video attachments.

Download Decipher Text Message


How to save text messages as a PDF
Specific steps for exporting iPhone text messages in a PDF document:
Backup your iPhone or iPad via iTunes on your computer.
Launch Decipher TextMessage and select your device in the left-hand column of the program.
Pick any contact in the center column and all the text messages with that person will immediately be displayed.
Select "Export" in the menu and choose PDF.
Save the PDF of your text messages to your computer and then open the document. Choose "print" to print out all your text messages and iMessages.

Below is a screenshot example of what a PDF of text messages looks like after they are exported. Note that the contact info and time/date stamp is on every single text message. This is a unique feature of Decipher TextMessage. Also, the PDF will also include any photo image attachments inline with the messages just as they appear on the iPhone or iPad itself.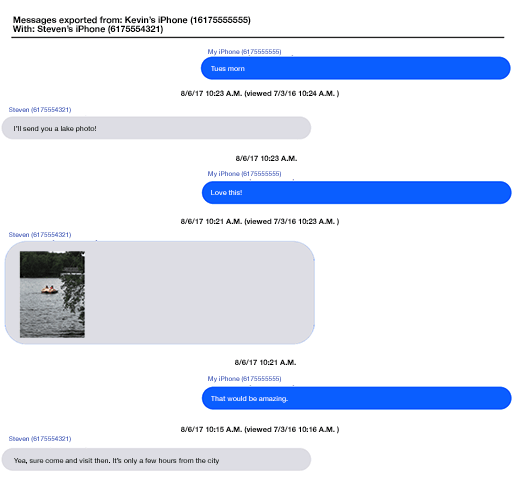 Saving text messages from a specific date range
If you have a large amount of text messages from a specific contact but only want to save messages from certain dates, you can easily narrow down the SMS messages that you PDF and print by selecting the "Export via PDF with date range" option. This will let you specify the exact date range of the text messages that you need to capture and save.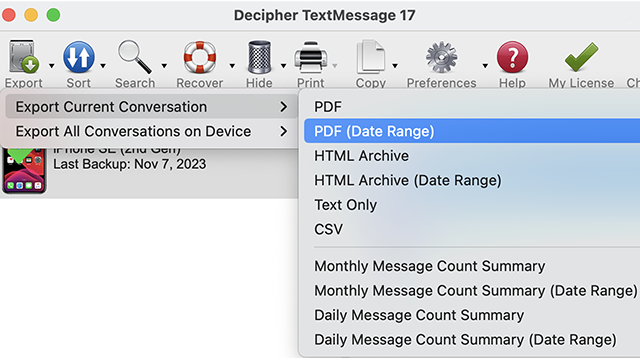 In addition to being able to print the PDF of all your text messages, don't forget that you can also email the PDF to colleagues or friends as well as save the PDF document to an external hard drive or cloud storage option of your choice.
That covers it for today's quick steps and overview on how to save your iPhone text messages as a PDF file and then print them out. If you have any questions or need help simply drop us a support email and we'll be happy to reply!