5 Tips to Save iPhone Text Messages to Computer
Rated (3.4 of 5.0) by 15 reviewers.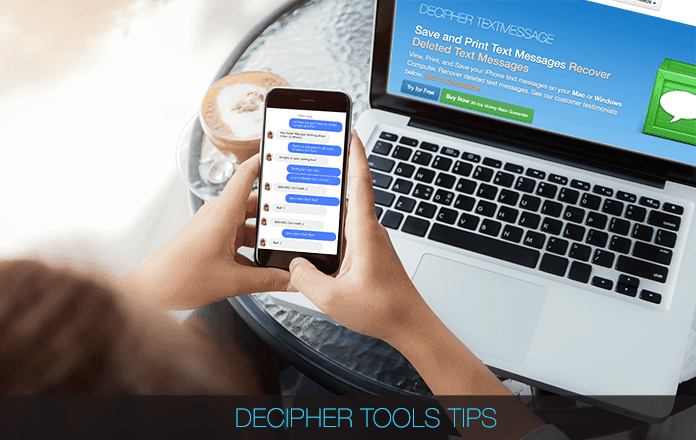 Figuring out how to save text messages from an iPhone to a computer can be a confusing task!
Usually a situation suddenly arises in your life where you have an urgent need to copy text messages off your iPhone.
When you do a Google search for saving iPhone text messages to computer, there is a lot of clutter and also many websites and instructions that don't look trustworthy.
The whole process of trying to find a simple and straight-forward solution online to export your text messages can be a bit intimidating. If you feel overwhelmed, you are not alone!
Everyday somewhere in the world there are mobile users who need to save their SMS messages to computer.
According to Forbes Magazine, there are over 270,000 text messages sent every second of the day worldwide!
That is a incredibly large amount of text messages being sent every second of every day! If you are reading this article, chances are you are one of the many iPhone users that need to save some of these text messages from your iPhone to your computer.
What kind of computer do I need in order to save text messages from my iPhone?
You can save text messages on either a Windows or Mac computer.
It doesn't matter if your computer is a desktop or laptop. Both will work great!
To export your text messages on Windows it is best to run any of the following operating systems on your computer:
Windows 7
Windows 8
Windows 10
If you are using a Mac to save your text messages messages to your computer all of these operating systems are compatible to accomplish the task:
OS X Lion
Mountain Lion
Mavericks
Yosemite
El Capitan
Sierra
High Sierra
Mojave
Catalina
Big Sur
Monterey
Do I need iTunes on my computer in order to export text messages?
If you decide you don't want to take screenshots of your messages then you will indeed need to run iTunes on your computer in order to copy text messages to your PC or Mac.
Note: if you are a Mac user running macOS Big Sur, Catalina, or Monterey, you no longer need iTunes and you simply back up via the Finder on your Mac.
If you don't currently have iTunes on your computer you can install the program from Apple's official website.
If you've never made an iTunes backup on your computer, don't fret! The instructions about how to back up your iPhone are simple and straightforward. We have more detailed instructions below about backing up your iPhone or iPad.
Tip 1: Decide if taking screenshots of your messages will work for your needs.
A screenshot is when you take a photo of your iPhone screen to capture the contents of what is being displayed.
Screenshots are a great way to save iPhone text messages if you only have small amount of text messages to capture.
If you need to save multiple text messages then we recommend not taking screenshots and using software to quickly and accurately save your text messages to computer.
How do I take a screenshot on my iPhone?
iPhone X or later
Hold down the side button on the right side of the iPhone.
Click the "volume up" button on the left side of the iPhone and let go of the buttons.
You'll see a small "thumbnail" screenshot in the lower corner of your iPhone.
Select that thumbnail to edit or share the screenshot.
Swipe left on the thumbnail to dismiss it.
On iPhone 8 or earlier, iPad, and iPod touch
Hold the side or top button on your device.
Click the home button right away, and then release the side or top buttons.
You'll now see a thumbnail screenshot appear in the bottom-left corner of your device.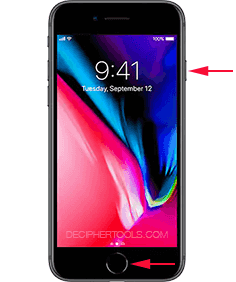 Apple also has examples of how to take screenshots on their site which might be helpful.
If you have more than a few text messages to save then screenshots will most likely not be right for your needs. Having to take lots of screenshots can often be time consuming and inefficient.
Tip 2: Backup your iPhone via iTunes
In order to transfer text messages from your iPhone to your computer you will need to make an iTunes backup on your computer.
Backing up your iPhone via iTunes on your computer will ensure that all your text messages and iMessages are stored in the backup before you export them.
Here are instructions to backup your iPhone with iTunes:
Plug your iPhone into your computer.
Launch iTunes and select your iPhone.
Choose "Back Up Now" to start the backup process.
Monitor the progress of your iPhone backup up in the toolbar.

macOS Big Sur, Catalina, or Monterey users - You no longer need iTunes to backup your device. Simply plug in your iPhone to your computer and select the device in the left-hand column of the finder and you'll then see the "Back Up Now" option in the main window.
If this is your first time backing up your iPhone on your computer it might take a few minutes to complete the backup.
How long a device takes to backup all depends on how much data you have on your iPhone.
If you have a lot of photos, videos, or text messages with attachments, the process might take a little while. Just be patient and let iTunes fully back up your iPhone.
Tip 3: Run Decipher TextMessage
Decipher TextMessage is a easy-to-use desktop program that will read in all your text messages on your computer.
The program will also let you save, print, and export a PDF copy of your text messages and iMessages.
When you use Decipher TextMessage on your Mac or Windows computer all your data is private to your PC. Your text messages are never stored in the cloud or online!

Download Decipher Text Message


How to Save iPhone Text Messages
To save iPhone text messages to computer follow these specific steps:
Open Decipher TextMessage and select an iPhone.
Choose a contact whose text messages you want to save.
Select Export as PDF and pick a folder on your computer to where you want the text messages saved.
Double-click to open the PDF of your saved text messages on your PC or Mac computer.

After backing up your iPhone, when you run Decipher TextMessage you will see your device in the left-hand column of the software.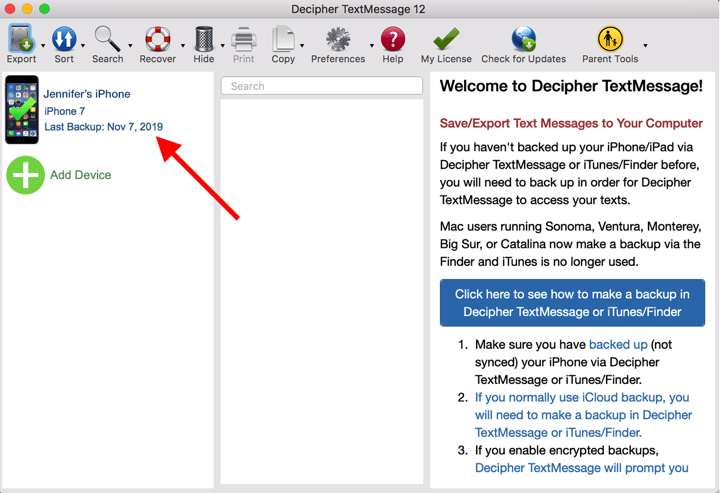 All your iPhone contacts will then appear in the middle column of the program.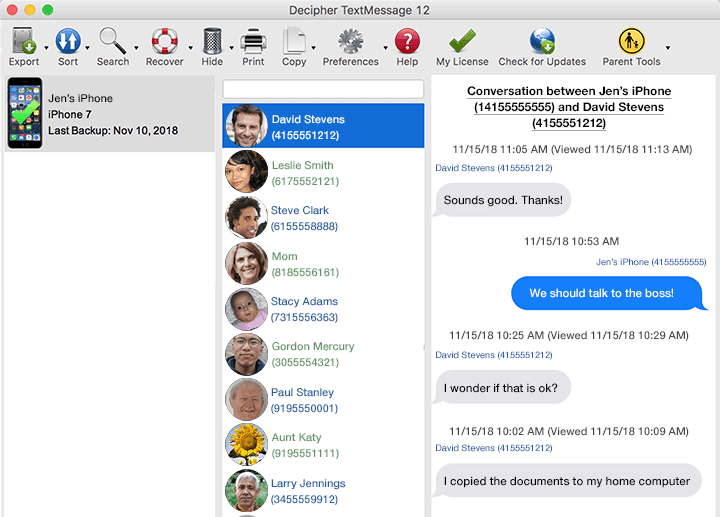 Pick "Export" in the Decipher TextMessage menu and then select "Current Conversation / PDF."

You've now saved your iPhone text messages to computer as a PDF document. When you open the PDF file all your text messages and photos will be displayed in chat bubble formatting.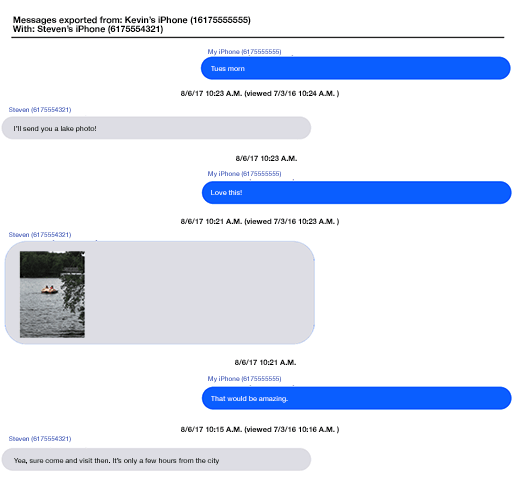 Note that all your photo attachments are also exported as part of the PDF!
Any photos contained in your text messages will appear just as they would on your phone and in-line as part of that message thread with that contact.
You can also choose to export your photo attachments separate in a folder to have all your photos contained in text messages organized and saved on your PC or Mac.
Tip 4: Save iPhone text messages with the time/date and contact on every message
Decipher TextMessage comes with a unique preference that lets iPhone users export text messages with the contact info on every single message, both sent and received.
The text messages also have the time and date on every message!
This is helpful for documentation purchases and clarity.
It's also useful for people who need to save text messages for court or trial.
Also, law enforcement and lawyers like this feature since it's useful for evidence and discovery purposes.
The "show contact on every message" preference is automatically turned on in the program.
However, if you want to double check before exporting your text messages, simply make sure there is a check mark next to the option under the preference menu.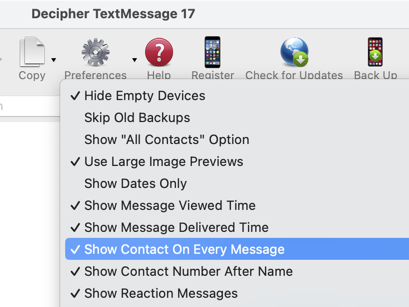 Tip 5: Print out saved iPhone text messages on your computer
Once you have successfully saved your text message from your iPhone to your computer, it's easy to print them.
Open the saved PDF that contains your text messages.
Choose print to display the print dialog box.
You can now print out all the text messages that you exported.
Pro Tip: Don't forget that if you need to email the text messages to a friend you can simply attach the PDF to any email.
How to Save iPhone Text Messages to Computer - Mac or Windows
Follow along with our helpful step-by-step YouTube video tutorial that walk you through how to save iPhone text messages and iMessages on any computer.
Conclusion
It can be a bit overwhelming when you first realize that you need to save or transfer text messages to your computer. However, with just a few steps you'll be able to get your important iPhone text messages exported and printed out.
Make sure you've backed up your iPhone on your computer to get that step out of the way first.
Next, think about how many text messages you need to save and capture.
If you don't have many text messages, try taking screenshots to see if that works for your situation.
Likewise, if you have more than just a few text messages to export, use Decipher TextMessage. The program will save you both time and effort.
You can select various contacts in the program and save all their text messages and iMessages to your computer in a PDF file.
From there you can print, email, or copy your text messages to an external hard drive so that your text message and iMessage conversations are all safely backed up!