View and Recover Files From Photo Vault
Rated (4.0 of 5.0) by 4 reviewers.

Decipher Backup Browser can help you view photos stored inside of Photo Vault by accessing the images stored inside of a backup made with iTunes. This is also handy if you forgot your Photo Vault passcode/pin, forgot a Photo Vault folder password, or if you need to recover Photo Vault photos from a backup.
Download and run Decipher Backup Browser.
Click on the backup that contains your Photo Vault data.
Click "Photo Vault Media".
You'll be presented with a gallery of all of the photos stored within the Photo Vault app. Press "Save" in the upper left corner to save the images and videos, or click on individual thumbnails to view the full size photo.
If you need your Photo Vault pin so you can open the app on your iPhone, we have instructions on how to recover your Photo Vault passcode here.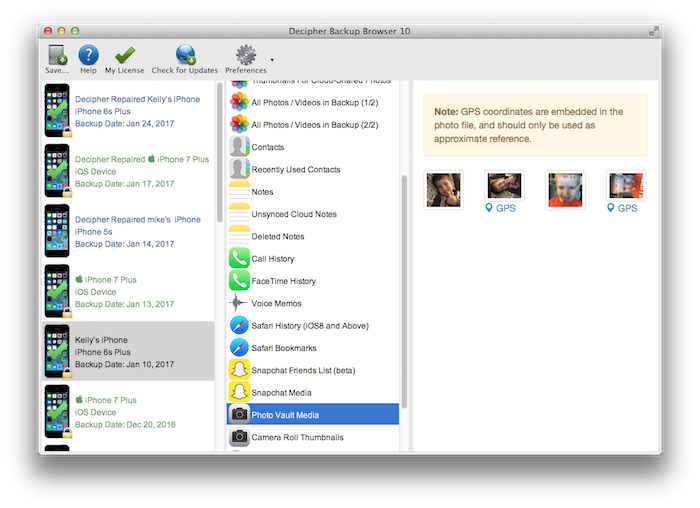 Update August 14, 2019: Decipher Backup Browser has been updated to properly decrypt photos and videos from the latest 2019 versions of Photo Vault, whether or not you have the Photo Vault PIN/Passcode!