Exporting iPhone Voicemails to Computer - I don't see my voicemails in Decipher VoiceMail
No ratings yet.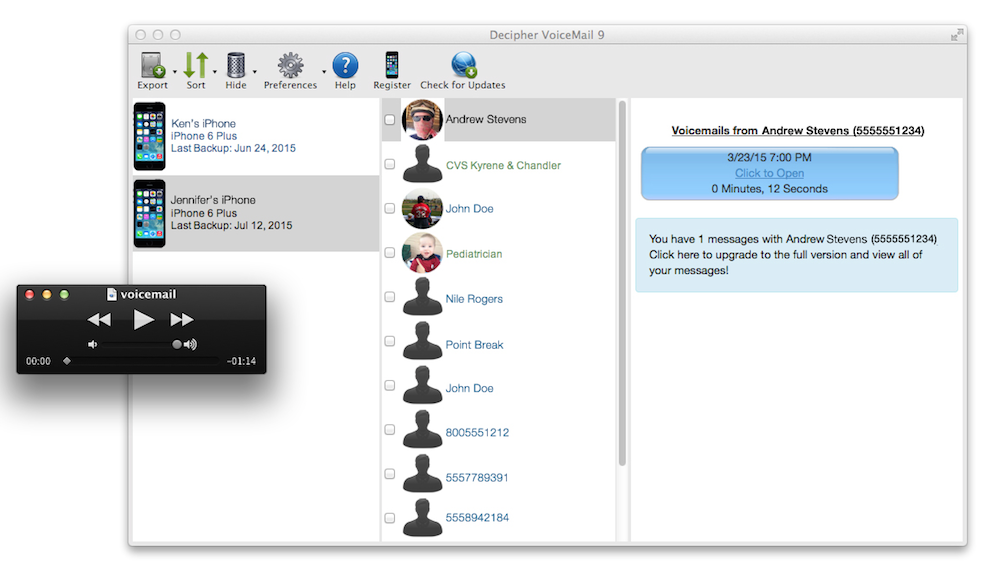 Decipher VoiceMail will let you save and export your iPhone voicemails to your computer. You can then access the voicemails via iTunes and also convert them to MP3 audio files if desired. The software works with both Windows and Mac desktop and laptop computers.
If you have downloaded Decipher VoiceMail on your PC or Mac and you don't see your voicemails in the far-right column of the software, here is what to do:
Make sure you have made a recent backup of your iPhone. After backing up your iOS device, Decipher VoiceMail will then read-in your most recent voicemails and you can transfer the voicemails them to your computer. Here is how to back up your iPhone via iTunes.
Make sure you have Visual VoiceMail on your phone. Most carriers worldwide offer Visual Voicemail. Having Visual VoiceMail is a requirement of Decipher VoiceMail and the software will not work with out it. Apple has details on Visual Voicemail here.
Double-check that you have the most recent version of the software installed. You can download Decipher VoiceMail here.