How to Save and Print Instagram Messages on your Computer
No ratings yet.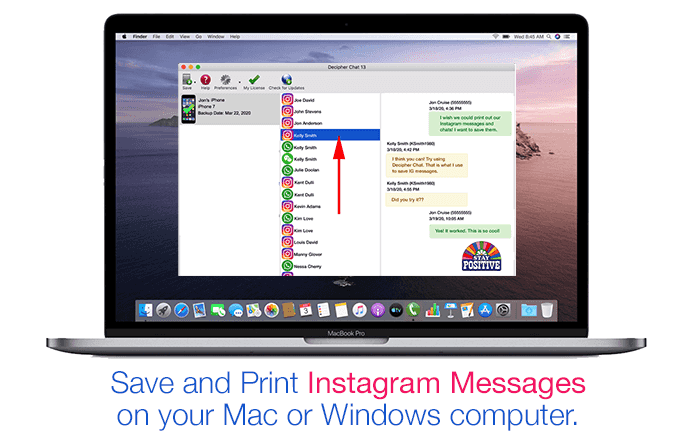 In 2020, there are over 1 billion monthly Instagram users worldwide and over 500 million daily active Instagram users! Most people who use Instagram enjoy taking advantage of sending messages via the software's Instagram Direct messaging option. With so many global users sending messages Instagram DMs, there is almost always a need at some point to save and print Instagram messages on one's computer. Today's tutorial will walk you through how to accomplish that task for any iPhone or iPad Instagram users.
Why would I need to save or print Instagram chats as a PDF?
Instagram users have many different reasons for needing to document and save direct messages contained in the app. A few of these include:
Saving Instagram messages of a loved one who has passed away.

Providing copies of Instagram DMs for court, trial, or legal reasons.

Lawyers often request that clients print Instagram messages for evidence.

Parents regularly need to save Instagram messages to monitor their teen's IG chats.
Decipher Chat Software
Decipher Chat is a desktop software program that enables any iPhone or iPad user to save and print their Instagram messages and chats. The program works on any Windows PC or Mac and enables users to keep a separate copy of all their important Instagram messages downloaded on their laptop or home computer.
In order to save Instagram messages to your Windows or Mac computer with Decipher Chat you will need to backup your iPhone. We have instructions here on how to make an iPhone backup. Most users will use iTunes to make the backup on their computer of any iPhone or iPad. If you are a Mac user running Catalina you can simply back up via the Finder.
Instructions to save and Print Instagram messages as a PDF
Follow these steps to save and print Instagram messages on any computer
Run Decipher Chat.
Select an iPhone.
Choose a contact that has Instagram messages you want to save.
Select Save.
Open the PDF on your computer and choose "Print" to print out Instagram messages.
When you launch Decipher Chat you'll see you iPhone in the left-hand column of the program.

Select your device and you will then see all of your Instagram contacts.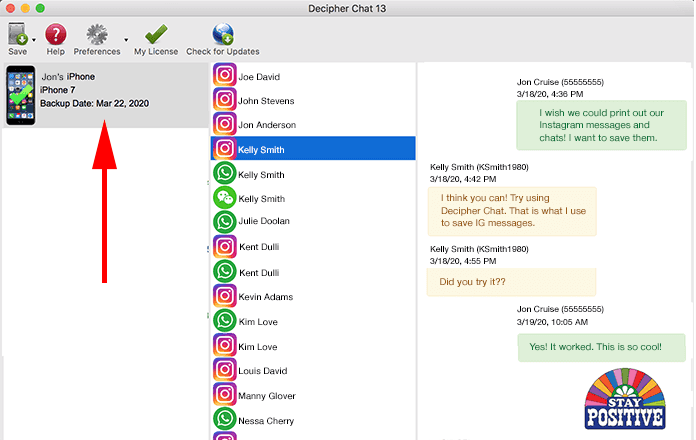 Click on any Instagram contact to see direct messages with that individual.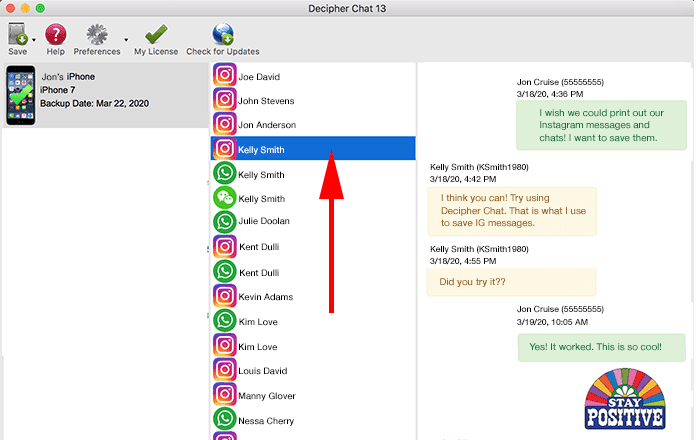 Choose "Save" to export the Instagram messages as a PDF file to computer.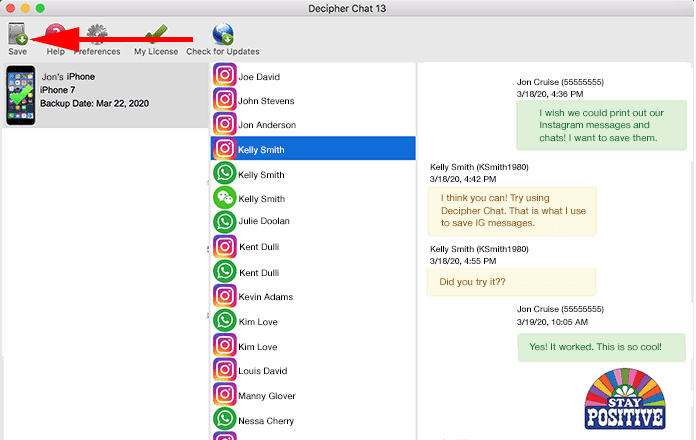 How will my Instagram chats be displayed when they are saved as a PDF file?
Here's a screenshot example of how your Instagram messages look when saved or printed as a PDF document: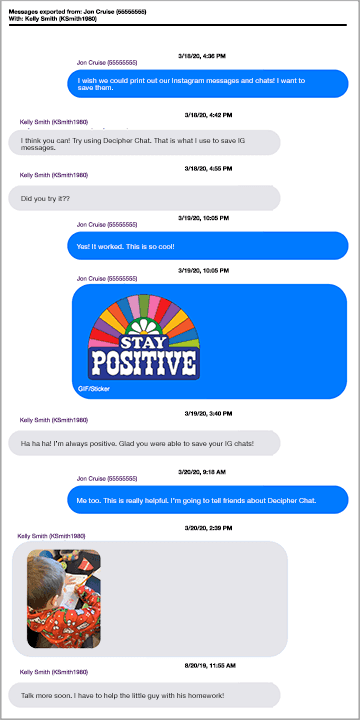 Note that every single Instagram message has the contact name, date, and time displayed. This is helpful for documentation purposes and record keeping! Also, any photos you've sent via direct message will be included and embedded in the PDF export of your messages.
Benefits of using Decipher Chat to save Instagram messages and chats
Decipher Chat keeps a separate copy of your Instagram messages on your computer.

Privacy - All your Instagram direct messages are local and private on your PC.

Ability to conveniently save Instagram chats as a PDF and email them to anyone.

Decipher Chat displays your Instagram messages with the contact and time/date stamp on every single message.

You don't need a text editor or HTML editor to view files. Decipher Chat does all the work for you.

Free Trial - The trial version lets you save and print a few Instagram messages for free and will give you a good feel if the program is useful for your needs.
Download Instagram data directly from the Instagram website
Instagram users can also download a zip file of their Instagram chats directly from the Instagram app or website. This is a free service provided by Instagram for all users and they will then email you a link to download your data within 48 hours.
Here's how to download your data directly from Instagram:
Go to Instagram.com in your web browser on your computer and log into your account.

Navigate in account settings to the Privacy and Security page.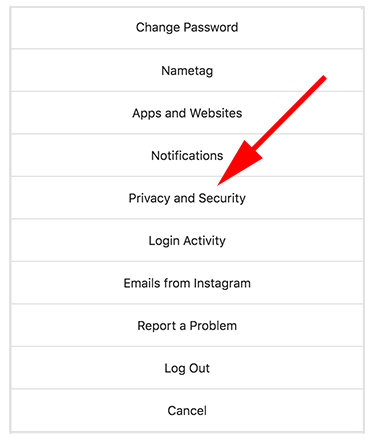 Scroll down to "Data Download" and choose "Request Download."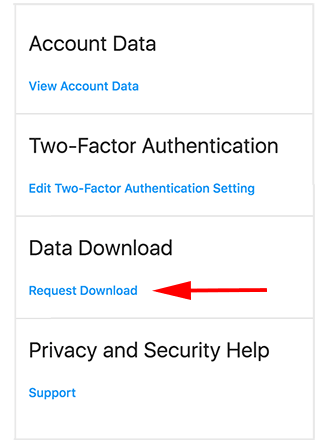 Enter your Instagram password and then you will be presented with a download page.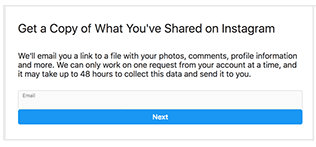 When you receive your Instagram data, it will arrive in a .zip compressed file which you can download and open on your computer. The data files are in JSON format and will include not only your direct messages but also comments, settings, photos, videos, and more. Here's an example of the folder structure containing the data dump: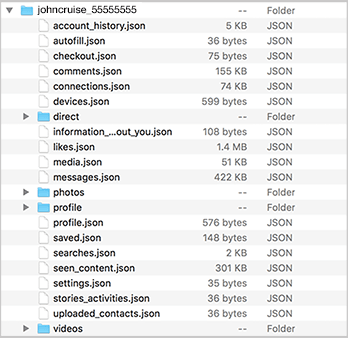 Note: In order to view some of the files you will need a text editor or HTML editor on your computer. There are also various programs out there that convert JSON data to a CSV file should that be more appropriate for your needs.
Instagram does not provide a way to convert your messages to a PDF document, so for that need we recommend using Decipher Chat. However, the data download can be helpful and useful to have all your Instagram photos, videos, and other info saved to your computer and backed up.
Have questions about saving Instagram messages? Let us know!
We hope today's tutorial has been helpful. If you need any additional assistance saving your Instagram messages and chats to your computer or printing them out as a PDF file, feel free to email us and one our staff from either our San Francisco or Phoenix offices will respond. Best of luck with your Instagram data and chats!