How to Recover Lost Photo Stream Pictures
No ratings yet.

Apple's "Photo Stream" feature automatically copies photos between all of your devices as they are taken. The photos are not stored on iCloud, so it can be a good photo-sharing alternative to an iCloud photo library if you're short on iCloud space. A few important caveats:
Each device using Photo Stream keeps a limited number of photos as new photos are sent to the device. Right now, Apple's documentation says the limit is 1000 photos. If you want to permanently keep the photo, you need to go in and add the photo to an album.

You need to enable Photo Stream on any device you want to be send/receive photos on.

Photo Stream copies are optimized for each device getting a copy, so the Photo Stream version of the photo will likely be smaller than the original.

Videos are not included in Photo Stream.

Photo Stream streams copies to the original device that took the photo as well, so you may use up some extra space on your primary device (likely your iPhone.)
Photo Stream should not be your primary mechanism for backing up your photos, since they're not stored permanently anywhere. (You could setup iPhoto on a Mac to receive and import Photo Stream photos though!)
With that said, if you've lost photos, Photo Stream may be a place you can rescue them from.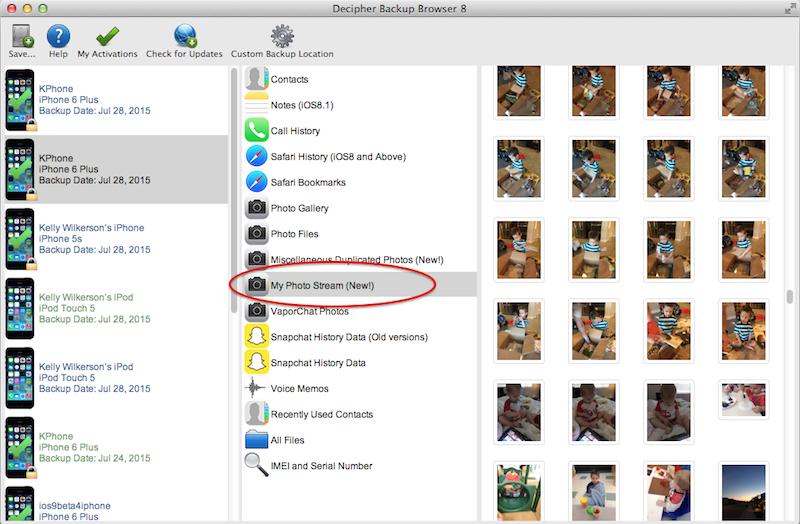 Instructions to use Decipher Backup Browser to look for Photo Stream pictures:
Download Decipher Backup Browser from our website and install from the DMG or Windows Installer file.

Run Decipher Backup Browser, and it will search for your iPhone, iPad, and iPod Touch backups made in iTunes automatically.

Select a backup, and look for an entry called "My Photo Stream." If there were Photo Stream files in your backup, they'll appear in this entry. Click "My Photo Stream" to view the contents of the Photo Stream at the time of the backup.