I know I'm weird, because I get a little thrill out of seeing new error messages in iTunes. Most people groan, and granted it takes some time out of my day, but I get to make a new blog post out of it and hopefully help a bunch of people! So without further ado...
This morning I'm testing our new iPhone drive cleaning software (working name: Decipher Phone Cleaner!) and restoring a cleaned-up backup. While doing so, I got this message: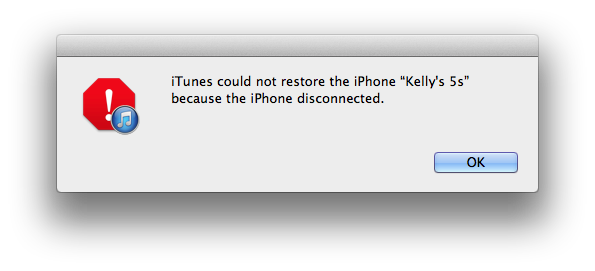 Considering that my iPhone USB cable has electric tape holding it together, I first assumed that my USB connection to the computer was faulty, and unplugged everything, blew on everything1, and plugged it all back together. When that didn't help AND I noticed that my phone was actually still connected to iTunes, I realized that "because the iPhone disconnected" means more specifically "because the iPhone disconnected from the restore service." Since I'm editing my backup (to reduce the file sizes,) I could deduce that there is probably an issue with the backup from which I'm restoring.
If you are seeing the message "iTunes could not restore the iPhone 'Your device's name' because the iPhone disconnected." it likely means that the iPhone restore process is crashing on the iPhone. Possible causes and resolutions: