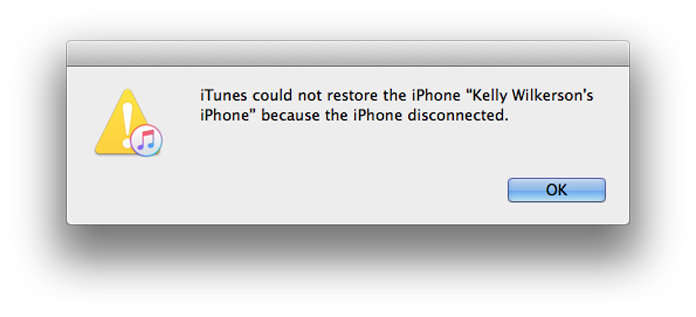 If you're getting an error in iTunes that your iPhone "disconnected" during a backup or restore, this essentially means that the backup or restore stopped when iTunes didn't expect it to, due to some error. The solutions for dealing with this are very different depending on if you're backing up or restoring a backup, so jump down to the heading appropriate for your scenario.
These solutions are for all iOS devices: iPhone, iPad, or iPod Touch.
iTunes could not restore the iPhone because the iPhone Disconnected
iPhone Disconnected Error During a Restore
If you're getting the iPhone Disconnected error while trying to restore a backup to your device, we need to find a solution that will keep the data you're trying to restore intact. (This is my way of advising you to avoid any solutions that involve deleting the backup!) Here is what to try:
Remove any USB hubs in the connection between your computer and your iPhone. These can potentially cause USB errors that make the restore process fail. This is also a good time to try switching USB ports on the computer and USB cables if you have a spare.

Reboot the computer you're doing the restore with. This will fix any potential USB connection errors.

Reboot the iPhone you're restoring, by pressing the top or side (lock) button until a "slide to power off" slider appears. Slide to power off, wait a few moments, and then power back on. If the iPhone is not freshly setup, you can also try doing a Reset Network Settings in the Settings app → General → Reset → Reset Network Settings.

Assuming none of these solutions worked, there may be an actual error in the backup you're trying to restore. You can download our free trial of Decipher Backup Repair to diagnose the errors in the backup. Register Decipher Backup Repair to fix the errors so you can restore the backup in iTunes.
iTunes could not back up the iPhone because the iPhone disconnected.
iPhone Disconnected Error During a Backup
If you're getting the iPhone Disconnected error while trying to backup your device, we can hopefully solve the problem easily, since we don't need to worry about keeping the old existing backup intact. Here is what to try:
Remove any USB hubs in the connection between your computer and your iPhone. These can potentially cause USB errors that make the restore process fail. This is also a good time to try switching USB ports on the computer and USB cables if you have a spare.

Reboot the computer you're doing the restore with. This will fix any potential USB connection errors.

Turn off Background App Refresh in the Settings app → General → Background App Refresh. (If you are using iOS 8 or lower, then put the iPhone into Airplane Mode.) In our experience with customers, we've found that too much background app activity (incoming messages, etc) can cause problems that result in the "iPhone Disconnected" message. (Don't forget to turn back on Background App Refresh after the backup is done!)

Addition 1/10/17: I've seen a couple of backups where we had to put the iPhone into Low Power Mode in the Settings app under Battery to get the background file changes to slow down enough to get the backup working. Addition 4/12/17 We recommend setting all three settings: Background App Refresh off, Airplane Mode on, and Low Power Mode on. For some people, all three options are needed to quiet the background operations enough to complete the backup.

We likely need to remove (or move) the existing backup, so that we eliminate errors caused by reading or trying to update it. To move/remove your existing backup:

On a Mac your backups are in /Users/your username/Library/Application Support/MobileSync/Backup.

(Open Finder, hold the Option key, and select "Library" from the Go menu to get to your user's Library folder.)

In Windows, the fastest way to get to your backup folders is:

(Windows 7 and below) Start -> Run -> type %appdata% (with the percents) and press return.

(Windows 8 and Windows 10) Search -> type %appdata% (with the percents) and press return. From Application Data, navigate to Apple Computer, Inc. -> MobileSync -> Backup.

You can match your device identifier with the backup folder name by clicking on the Serial Number field in iTunes (which will switch it to your device identifier.)

Rename this folder to anything you like (like "old backup") or delete it. Renaming the backup is sufficient to hide it from iTunes and force iTunes to make a new backup from scratch — this usually eliminates the problem.

If removing the previous backup didn't work, let's do it again in combination with another possible fix: