How to Move iPhone Text Cursor to an Exact Location
No ratings yet.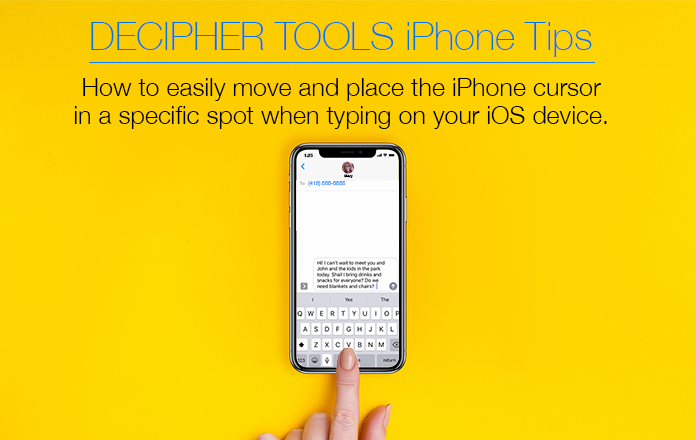 Today's Decipher Tools tip is a fun little feature on any iPhone or iPad that enables you to place the text cursor in the exact spot you want want while typing. Some of you might already be familiar with this handy option. However, if you are just learning about it today for the first time, we hope this tip is helpful!
If you are typing on your iPhone or iPad and need to edit text in any application, there is a simple way to position the text cursor in the exact location you want. Most iPhone users find this tip is helpful when typing or replying to text messages in the Messages app.
In order to edit text while typing, iPhone users will often delete all the text they have just written in order to simply place the cursor back in the specific spot where they need to make an edit. Here is how to avoid doing that by positioning your iPhone or iPad text cursor in the exact spot you need!
How to place the iPhone text cursor in an exact location
Follow these steps to move the iPhone text cursor to a specific location
Open an application on your iPhone where typing is required.

Type a few lines of text.

Hold down the space button on your iPhone keyboard.

With the space button pushed down, move the text cursor to exact desired location!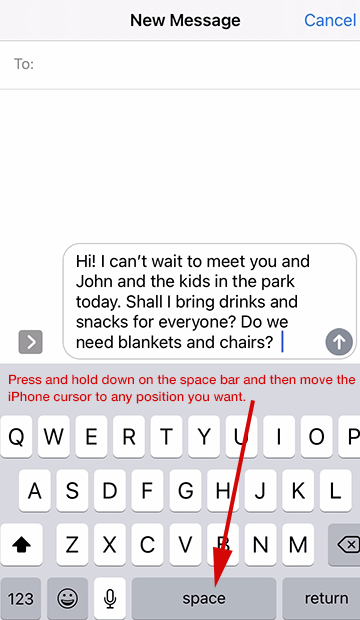 We hope today's quick iPhone tip about controlling the text cursor on iPhone and iPad has been useful. It's a neat little feature offered by Apple that we find very helpful when typing or replying to text messages.
If you have any questions about today's Decipher Tools iPhone tip or if you are perhaps curious about how to save or print iPhone text messages as a PDF on your computer, check out our suite of Decipher Tools products and desktop programs. You can also contact us via our support email and some one from our team in either San Francisco or Phoenix will get back to you.