Steps to Recover Deleted iPhone Text Messages from the macOS Messages App
No ratings yet.

Accidentally deleting important iPhone text messages can be very frustrating and also cause any iPhone user to panic. Sometimes we accidentally delete text messages from our iPhone or iPad and, if the the device was never previously backed up, the deleted messages are usually not recoverable. To check whether or not text messages that you erased from your iPhone are recoverable, the free trial of Decipher TextMessage will present to any iPhone user whatever deleted text messages are left over in their iTunes backup. You simply click "recover" in the menu of the program and any deleted text messages will be displayed.
Another often overlooked place to try and search for deleted iPhone text messages is via the macOS Messages app on your computer.
If you use the macOS Messages app, many times the app will archive copies of your older text messages and iMessage conversations. Sometimes these text messages can even exist in the archive despite the text messages being deleted from the iPhone itself or from the Messages app on the Mac computer!
Decipher TextMessage will help any iPhone user search the macOS Messages app database and its archives to see if the text message data is recoverable. To accomplish this task, you simply run the program on your computer, select two preference options, and any deleted data from the macOS Messages database or archives will be read into the program.

Download Decipher Text Message

Detailed steps to search and recover deleted iPhone text messages on your computer in the macOS Messages app
Run Decipher TextMessage on your Mac.

Click Preferences, and check Import macOS Messages App Data.

Click Preferences again, and check Import macOS Messages Archives (Once on next launch).

Close Decipher TextMessage and re-open the program to read in messages data with the new settings.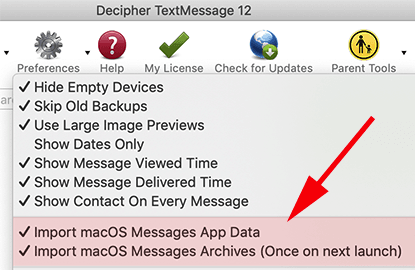 Note: Keep in mind that it may take some time during startup to read in both your macOS Messages app data and also the archived data from the app. Reading in new Messages app data in the future will go much faster.
If you have macOS messages app data, you'll see one or two new entries in the left column of the program which you can immediately open and search for specific contacts or messages! Here's an example for reference: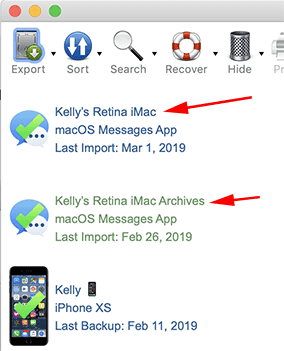 We hope that this tip about how to search on your computer for deleted iPhone text messages via the macOS Messages app has been helpful. If you have any questions or need support, feel free to contact us via email and someone from either our Phoenix or San Francisco Decipher Tools offices will reply!