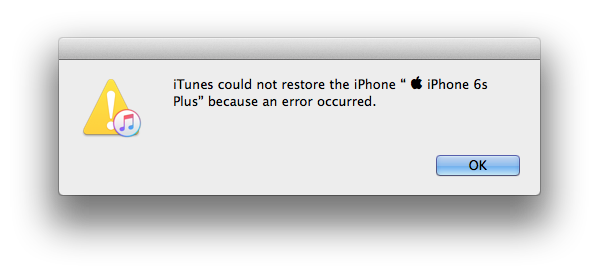 I've been seeing more of the pretty generic iTunes error message "iTunes could not restore the iPhone because an error occurred." It's not a very helpful message; in my experience it generally means that there was something unexpected in the backup that the iPhone doesn't know how to handle, so the entire restore attempt gets abruptly rejected. The good news is that we've fixed backups that produce this error using Decipher Backup Repair!
(The picture of this error was taken while restoring an iPhone, but Decipher Backup Repair works for iPad and iPod Touch backups as well.)
If you are getting an error message while trying to restore a backup in iTunes, Decipher Backup Repair should be able to help! Decipher Backup Repair will automatically scan your problematic iPhone, iPad, or iPod Touch backup and fix the problems so you can restore it in iTunes. You can download the free trial from our website to see what errors Decipher Backup Repair finds in your backup.
https://deciphertools.com/decipher-backup-repair.html
In the rare event that you still cannot restore your backup after using Decipher Backup Repair, we'll help discover the problem and fix it, or refund your purchase.