Recover Lost or Deleted iPhone Photos
Rated (5.0 of 5.0) by 1 reviewers.

Instantly search your iPhone backup for deleted pictures.
Accidentally deleting photos on your iPhone is not a fun experience, especially when the pictures are irreplaceable photos of family, friends, loved ones, or business projects. If you've ever mistakenly deleted a photo from your iPhone or iPad, you are familiar with the panic that immediately sets in!
As iPhone users ourselves, we wanted to make a program that will instantly help any iPhone user worldwide to quickly search their backup for lost photos. The free trial of our new revised Decipher Backup Browser software will enable you to search for missing iPhone pictures in three quick steps!
Download the free trial of Decipher Backup Browser to your Windows or Mac computer.

Run Decipher Backup Browser and you should see your most recent iPhone backup in the left-hand column of the program.

Simply select "camera roll gallery" in the middle column and you'll instantly see all the images contained within your backup from your Camera Roll. You can also click around to other photo and video related choices, like your text message attachments or Flickr cache. When all else fails, you can use the "All Photos / Videos in Backup" option to see everything that looks like a picture or video file to look for the deleted photos.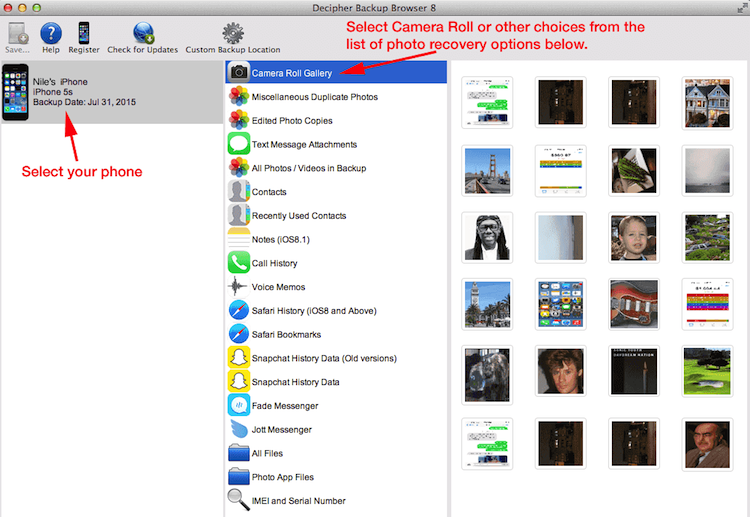 The free trial will let you view thumbnails of every photo in your backup so that you can quickly scroll through all of the pictures and see if a copy of the deleted iPhone photo is recoverable. If you see the photo you are looking for, upgrade to the paid version of the software to save a copy of the images to your computer.
Also, if you're running iOS8 or higher, you can check the "Recently Deleted" folder in your photo albums. This album usually retains any photos deleted on the iPhone within the last month. However, after 30 days, the iPhone automatically deleted the pictures.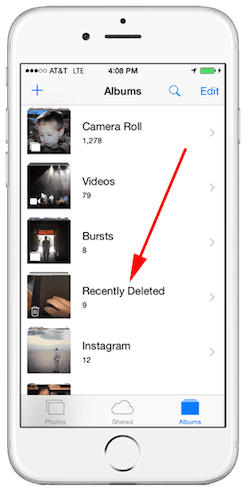 If you are having troubles recovering your lost iPhone photos from your backup, feel free to contact us via our support page and we'll be happy to help!