How to view Safari history in an iPhone backup
No ratings yet.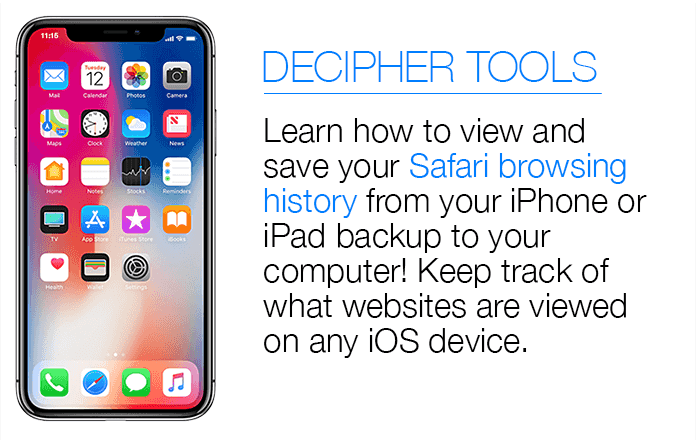 Do you need to view and save your iPhone Safari browser history from a backup? Maybe you want to check and see what websites your child or teen has been viewing with Safari on their iPhone or iPad? Are you unable to recall that specific website where you found that brain stumping fact? If the answer to any of these questions is "yes," then Decipher Backup Browser can help!
When you download Decipher Backup Browser and run the software on your Mac or Windows computer, you'll be able to see and save all the Safari website history stored in your iPhone and iPad backups.

Download Decipher Backup Browser
Specific steps to view and save Safari history from your iPhone to computer
When you launch Decipher Backup Browser, select an iPhone backup in the left-hand column of the program. Note: If you don't see any backups, you would need to backup your iPhone or iPad on your computer.

In the middle column of Decipher Backup Browser, scroll about halfway down and select Safari History.



In the right column you will immediately see your all your Safari browsing history that is contained in your iTunes backup.

Select "Save" in the menu of the program to export the Safari history to your Windows or Mac computer.
Pro Tip: For iOS 13 backups, the backup must be encrypted for the Safari History to be present in the backup and displayed in Decipher Backup Browser. However, the program will always show you the "Safari History" option with a simple reminder that your backup must be encrypted.
Conclusion
As always, if you need help viewing or copying your Safari browsing history from your iPhone or iPad to your computer, simply reach out to us via email at either our San Francisco or Phoenix offices here in the USA and we'll be happy to reply back.