How to Print Text Messages for Court - Android and iPhone
Rated (3.7 of 5.0) by 188 reviewers.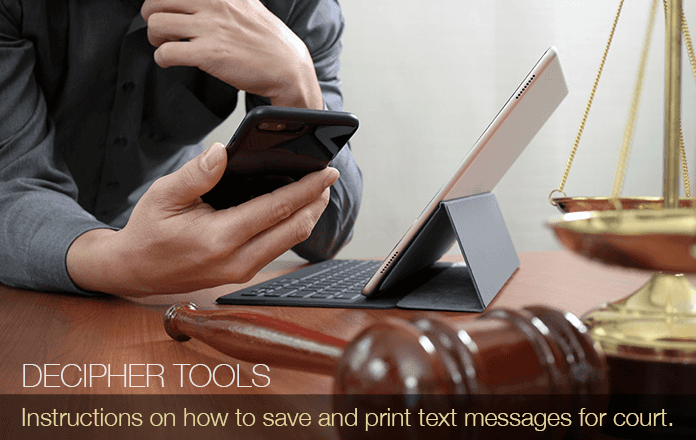 In 2022 there are millions of mobile phone users around the world that have a need to save and print text messages for court, trial, or their lawyer. Whatever kind of legal-related issue you are having, printing out text messages from both iPhone and Android devices is easy with a few quick steps.
As recently reported by Forbes Magazine, over 23 billion text messages are sent worldwide each day! The need to document and print SMS text messages for court is becoming commonplace, especially since large amounts of personal and business related information is sent and received via text message every single day. Legal administrators, attorneys, solicitors, and law firm assistants, are now regularly requiring their clients to capture and print text messages so that they have copies for evidence or to present before a judge for court hearings.
Android
One of the easiest ways for Android users to print text messages is with SMS Backup+. The software is located in the Google Play Store and it lets anyone automatically backup their SMS and MMS messages. Note: Before getting started, if you don't currently have IMAP enabled for your Gmail account you'll need to ensure that IMAP is turned on. Here are instructions on how to accomplish that task. Once you turn on the IMAP preference in your Gmail account, you will be able to begin saving your text messages.
Steps to print text messages for court on Android
Install SMS Backup+ on any Android phone.

Select "connect" and enter your Gmail account information.

Choose "backup."

Open your Gmail account to access and print your text messages for court.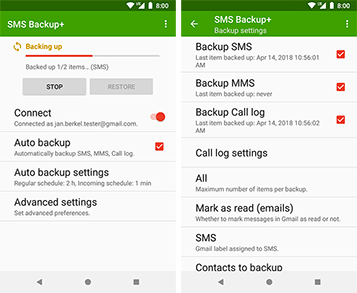 An added bonus of SMS Backup+ is that it will also back up call logs which many Android users find helpful. You can read testimonials from SMS Backup+ users in the Google Play store and see their helpful comments about the program. The users all have various different Android devices and great feedback is provided.
If you have any troubles installing SMS Backup+ you can browse the program instructions and FAQ here which should be of help. Lastly, if you don't currently have a Gmail email account, you can sign up for one here and you'll then be able to get up and running quickly with both saving and printing your text messages.

iPhone
For iPhone users who want to print text messages for court or trial, Decipher TextMessage is a tried and trusted solution. The program runs on any Windows or Mac computer and keeps a separate history of your text messages and iMessages! You simply backup your iPhone via iTunes and then you can immediately save text messages as a PDF file and print text messages for court.
Note: If you are on a Mac and running macOS Monterey, Big Sur, or Catalina, you no longer need iTunes to back up your iPhone or iPad. You can simply select your device in the left-hand column of the Finder window and then choose "Back Up Now. We have helpful instructions if you need assistance backing up your iPhone on your computer.
Quick Steps - Print text messages for court
Follow these steps to print text messages for court.
Open Decipher TextMessage, select your phone.
Pick a contact with text messages you need to print for court.
Choose Export.
Open the saved PDF of your text messages on your computer.
Select Print to print out text messages for court or trial.
Decipher TextMessage displays all your text messages for court in the easy to read format
When you first open the program you will see your iPhone in the left-hand column of Decipher TextMessage. If you don't see your iPhone in Decipher TextMessage, make sure you have backed up the phone on your computer!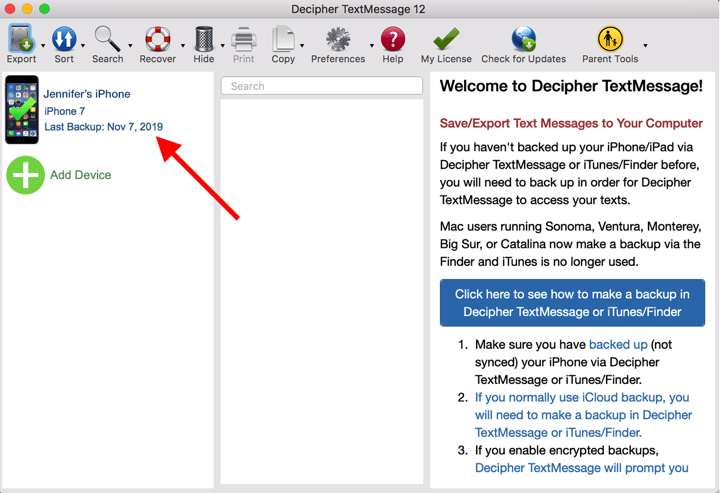 When you select a device you will immediately see all your iPhone contacts in the middle column of the program. You can choose a specific contact and then all your text messages with that person will be displayed.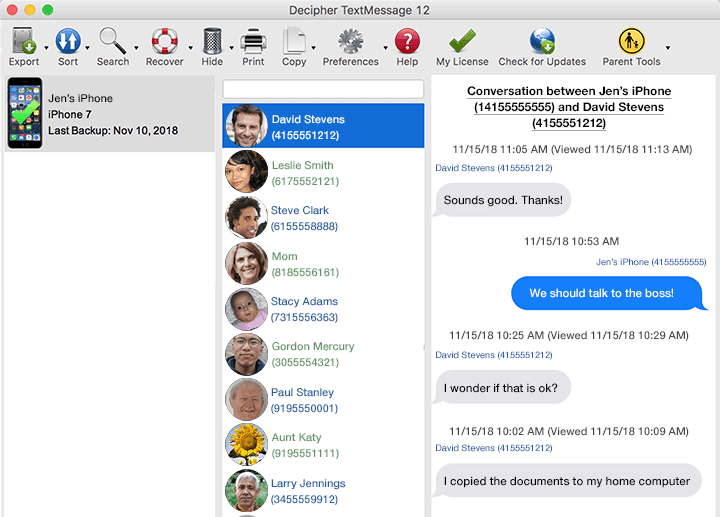 To save your text messages to computer for your court case, simply choose the "Export" option from the Decipher TextMessage menu and then pick "Current Conversation / PDF."

After you have successfully exported your text messages as a PDF document for court, you'll notice that the PDF displays the text messages in "chat bubble" format and includes any photo attachments inline as part of the conversation. This continuity is helpful when printing text messages and iMessages for court since it ensures that messages are printed and displayed in the exact format that they appear on your iPhone or iPad.
Here is a screenshot example of iPhone text messages as a PDF printed out for court as evidence: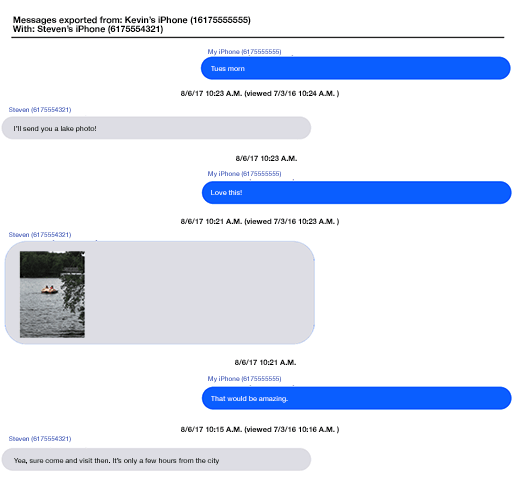 With the PDF of your text messages open on your computer, you can now choose "Print" in your PDF viewer software to print out the entire text message conversation for court or trial.
Below is a screenshot example in the Preview application of where you will find the option under the File menu to select "Print." Again, whether you use Preview on your Mac, Adobe Acrobat on either Windows or Mac, or any other PDF viewer, the option to print will most always be under the "File" menu.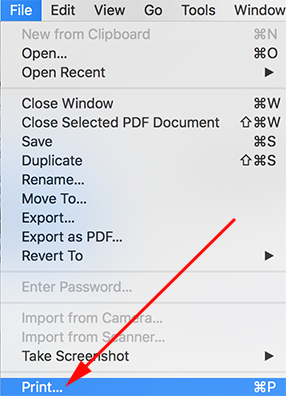 Download Decipher Text Message


Print Text Messages for Court - Additional Instructions
There are several compelling features that make Decipher TextMessage great for printing text messages for court or legal reasons. These include:
Contact and phone number on every single text message - Decipher TextMessage has a unique preference that automatically includes the contact name and phone number on every text message. This is a very helpful feature for your lawyer or for court. Many in the legal community including attorneys, judges, and legal advisors require this feature for court as it helps make it clear and obvious who sent and received each specific text message or iMessage.

Privacy - With Decipher TextMessage, all your saved text message data is local and private on your computer. The user controls everything and nothing is stored on servers or in the cloud. This means that all your text messages that you are preparing or saving for court or for your lawyer are secure on your personal computer or your attorney's computer.

Keyword Search Feature - The program has search capability that enables you to narrow down messages that have specific keywords or phrases related to your court or legal case. You can search specific conversations or all your text messages from all your contacts.

Date Range Export - If you have text messages that you want to print for court but you only need messages from specific days or time period, you can choose the "date range" export option to conveniently narrow down what text messages you export and print. This feature is helpful for large text message conversations where you only want to print the specific text messages that are relevant to your court case.

Works for all iPhone models - The software lets you export messages for court from any iPhone or iPad and Decipher TextMessage is also compatible with both Windows and Mac computers.

Print Group Text Messages - You can print out group text messages between many individuals that are relevant to your legal or court case.

Custom "Text Only" Backup Option - If you don't have enough hard drive space on your computer to make a full backup of your iPhone, you can use the "text only" backup option in Decipher TextMessage. This feature will let you back up just the relevant files that you need to save and print your text messages for court, thus minimizing hard drive space requirements.
You can read product testimonials from other people who have successfully used the software to print text messages for court or their lawyer.

Video Instructions - How to Print Text Messages for Court
Follow along with our helpful video instructions about best ways to print out text messages for court or trial
Click on the video below if you want watch and learn the step-by-step instructions to print text messages and iMessages for court or trial.
Are iPhone screenshots helpful for printing text messages for court or trial?
Taking screenshots of your text messages can sometimes be an easy solution, however it all depends on your specific needs or situation. Things to keep in mind about screenshots on both Android devices and iPhones or iPads include:
How many text messages do you need to print? - If you only need to print a small amount of messages, you might find taking screenshots a great solution for your needs. It's free and you can do it instantly. However, if you have a large number of text messages, most people find the screenshot method not very practical since it will take you an exorbitant amount of time and effort to accomplish the task.

Continuity of messages - If you decide to try and print screenshots of your text messages for court, you then have to attempt to organize the images in the order that they appear on your device. This can get confusing and also quickly turn into a disorganized mess as you try to ensure you have everything perfect for your attorney or your trial date.

Ink and Toner - Printing screenshots can quickly drain your printer toner or cartridge ink, especially if you print the messages at 100% scale and size. Software programs organize the saved messages with better formatting and more messages to a page which helps greatly when printing and displaying text messages.
Again, if you have only five or ten text messages, you might find screenshots appropriate for your needs. If you are trying to document a larger amount of text messages for legal reasons, you are better off using software to complete the task and to maintain organization of your exported messages and attachments.
If you decide that you want to give screenshots a try for your needs, instructions can be found here depending on your specific type of mobile phone:
• iPhone - Apple has instructions on their site for all their devices.
• Android - Google has helpful tips here for screenshots on any Android device.

Conclusion - Best practices for printing text messages for court
Whether you use an Android phone or an iPhone, we hope that today's helpful instructions will give you the ability to print text messages for court or any legal issue that might arise.
Regardless if your personal needs are for a custody hearing, divorce, or a work-related legal issue, generating print outs of your SMS and text messages history is something that will hopefully be of use for your legal proceeding or for your attorney.
If you have questions or need additional help regarding how to print or save text messages for court or trial, feel free to contact us via our Decipher Tools Support page and we'll be happy to write you back. We're a USA-based company (San Francisco and Phoenix) and we respond to everyone.