Save iPhone Notes to Computer - Windows or Mac
No ratings yet.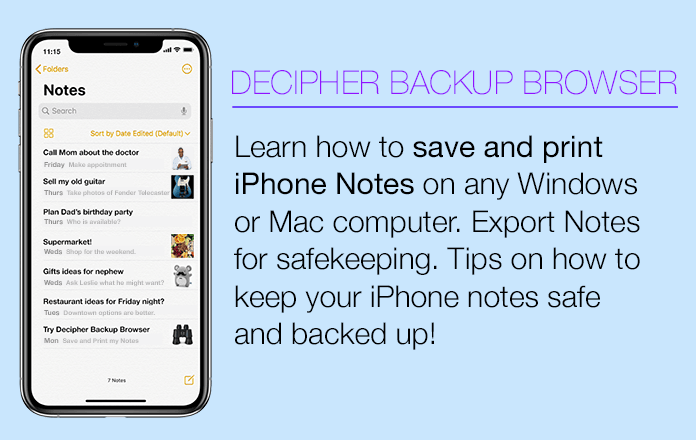 Most iPhone users today enjoy the convenience of the Notes app for jotting down information or ideas. Whether you keep your supermarket shopping list in the Notes app, store business ideas for work, write lyrical ideas down if you are musician or any other reason, the Notes app is one of the most regularly used apps on the iPhone and iPad.
Back up your iPhone notes
Before you even think about saving and printing out your Notes, the first thing you should always do on a regular basis is make sure you have backed up your iPhone. This will ensure that copies of your Notes are stored safely either on your computer or in iCloud. Trust me, if you have ever lost your iPhone or it has been damaged and your Notes were never backed up, it's an awful feeling!
You can backup your iPhone Notes either on your computer or via iCloud. Whichever choice works for you, be proactive in 2020 and start backing up your iPhone regularly!
Save and Print iPhone Notes on any Mac or Windows Computer
One day you wake up and realize you want to save or print out various Notes on your iPhone or iPad. The good news is that this is easier than you think! A simple and effective way to accomplish this task is with Decipher Backup Browser. The program runs on any Windows or Mac computer and will import all your Notes from your backup and then let you save and print them.
To save and print iPhone notes, follow theses steps:
Backup your iPhone on your computer.
Run Decipher Backup Browser.
Select a backup and pick "On my iPhone Notes."
Chose Save to export the Notes to PC or Mac.

Download Decipher Backup Browser


Here an example of how Decipher Backup Browser displays your Notes before you export them to your PC or Mac.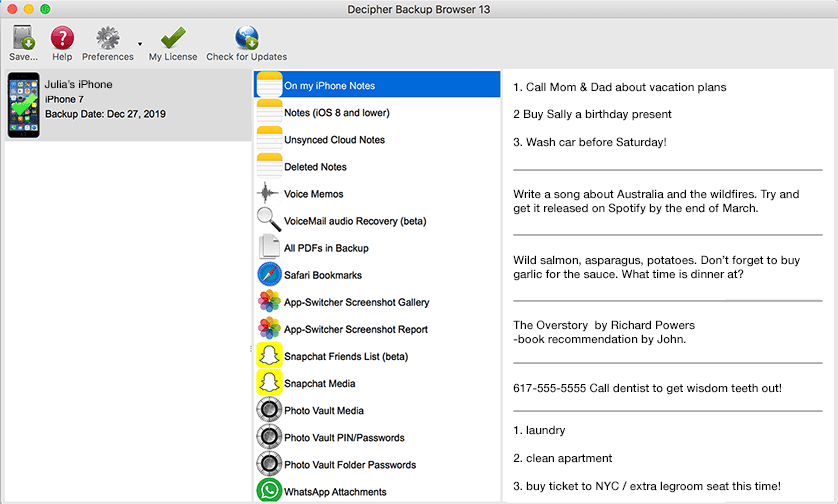 Pro Tip: There are several Notes options in the middle column of the program and also a "Deleted Notes" section that is helpful if you need to try and recover Notes that you erased and now hope to retrieve.
That covers it for today's quick tutorial about saving iPhone notes to computer. If you have any questions about how to save, print, or recover iPhone Notes, you can contact us via our Decipher Tools support page and we'll be happy to reply from either our San Francisco or Phoenix offices!