How to Save WhatsApp Messages for Court
No ratings yet.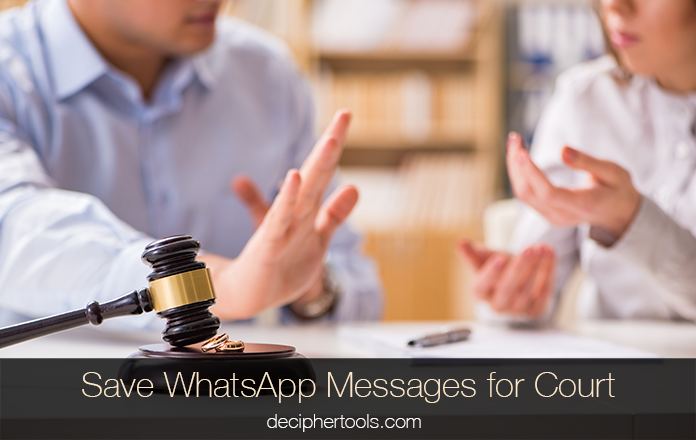 WhatsApp users often need to save and print their WhatsApp messages for court, trial, or some form of legal documentation. Likewise, lawyers and attorneys regularly request that their clients print out copies of WhatsApp messages for evidence purposes related to a specific case or legal dispute.
If a user has a large number of WhatsApp messages that they want to export for court, taking screenshots of the messages can prove to be very time consuming and frustrating.
Today we're going to show you how to save WhatsApp messages from an iPhone to any Mac or Windows computer as a PDF document. After transferring the WhatsApp messages to computer, you can print them out for your lawyer or for any legal needs.
What is the best way to export WhatsApp messages to computer?
WhatsApp is one of the most popular messaging apps in the world! Currently in 2020, there are more than half a billion daily active WhatsApp users worldwide. That's a lot of messages being exchanged daily around the globe and with that comes the need to often export messages for various legal reasons.
One of the most convenient and easiest ways to save WhatsApp messages for court is with Decipher Chat. The software runs on any Windows or Mac computer and enables users to quickly save WhatsApp messages to computer as a PDF file.
With Decipher Chat, all your important WhatsApp messages are local and private on your PC or Mac computer. The user controls all their WhatsApp data and nothing is stored on servers or in the cloud.
How to save WhatsApp messages for court
Follow these steps to save WhatsApp messages for court or trial
Open Decipher Chat.
Select an iPhone.
Choose a WhatsApp contact whose messages you want to save for court.
Select Save.
Open the PDF and print the WhatsApp messages for court, trial, or your lawyer.
When you launch Decipher Chat on your Mac or Windows computer, the software will conveniently display your iPhone backups in the left-hand column. Note: If you don't see your device in the program, you would simply need to make a backup of the iPhone or iPad on your computer.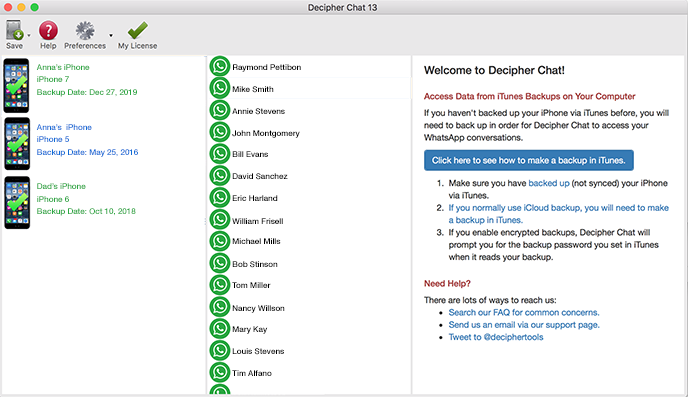 When you first get started, you can select an iPhone or iPad in Decipher Chat. You will then see all your WhatsApp contacts in the middle column of the program.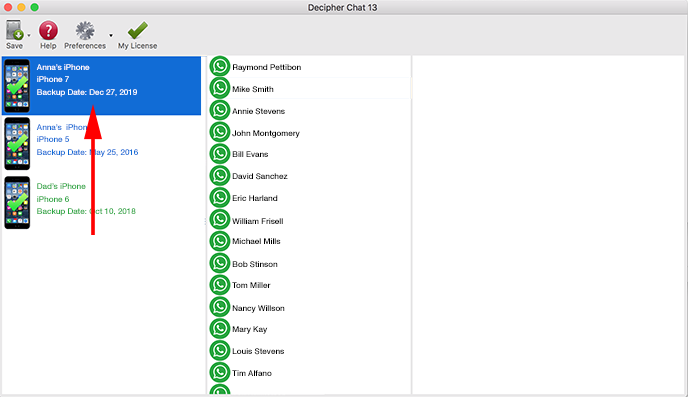 Click on any WhatsApp contact and all the messages with that person will be displayed. This conveniently includes any photo or video attachments!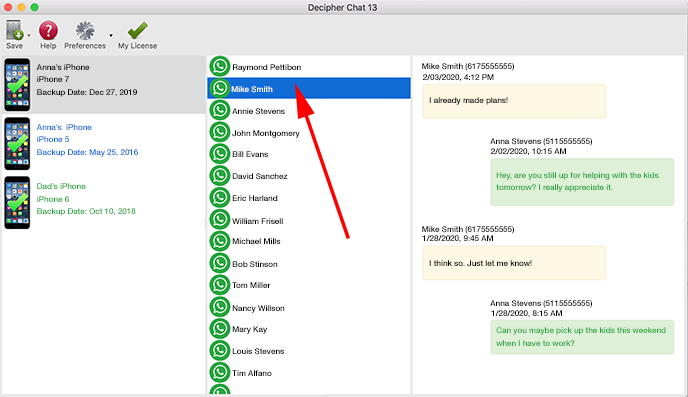 Next, select "Save" from the menu of the program to export your WhatsApp messages to your computer as a PDF document.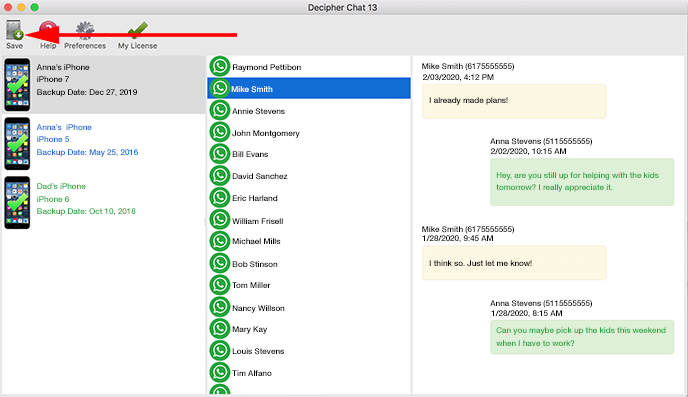 The exported PDF displays all your WhatsApp messages and images in a clean and easy-to-read format for court. Here's an example: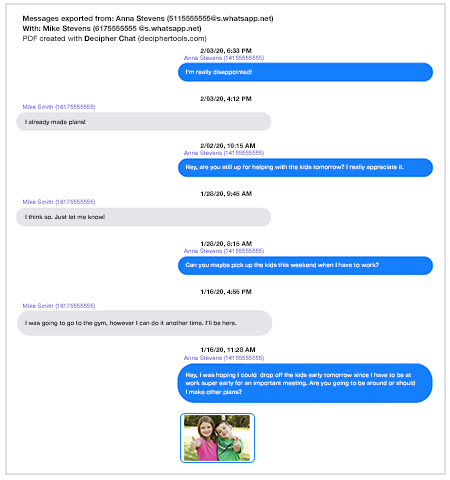 Many lawyers require that WhatsApp messages are saved in PDF format so that the fonts and photos are all embedded in the document. This ensures that the PDF document is easy to print on any computer for trial or evidence purposes.
Pro Tip: The PDF of your WhatsApp messages shows the sender, contact info, and date/time stamp on every single WhatsApp message! This is helpful for evidence and documentation purposes.
Save WhatsApp messages for a specific date range
If you have a large amount of WhatsApp messages and you or your lawyer only need a certain selection of the messages exported for court, you can choose the Save PDF (Date Range) option in Decipher Chat. This will enable you to narrow down the export to the specific week, day, or minute. This helpful feature gives you the ability print out only the messages that are relevant to your case.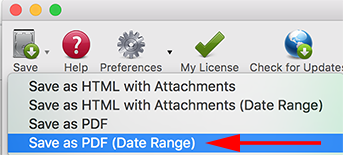 Email WhatsApp messages to your lawyer or legal counsel
After you save your WhatsApp messages as a PDF to your computer, the document will also contain any photo attachments that are part of the WhatsApp chats. To email the WhatsApp messages to your attorney or anyone related to your legal case, simply open your email client and attach the PDF file. You can now email your saved WhatsApp messages to anyone worldwide.
Conclusion
That wraps up today's Decipher Tools tutorial on how best to save WhatsApp messages for court or trial. If you or your attorney are using Decipher Chat and have any questions or need help copying your messages to a PDF file for legal reasons, feel free to contact us via our support page and we will write you back from either our San Francisco or Phoenix offices.