You may need to print your iPhone text messages for a court case, immigration documentation, or just to have a memento of a lovely conversation you have on your iPhone, iPad, or iPod Touch. We can help you get your printouts done quickly, in a nice iPhone-like format, and with all of the necessary information for official documentation using Decipher TextMessage.
Step 1: Make a backup of your iPhone in iTunes
Decipher TextMessage reads your text-message data from the iTunes iPhone backups, so we need to make a backup in iTunes. We prefer to use the backups rather than a direct connection to the iPhone so that we can collect the most data possible. Here's how to make a backup of your iPhone:
Plug your iPhone into your computer using the USB cable.
Open iTunes on your computer.
In iTunes, click the little iPhone button near the upper-left corner of the iTunes window.
Once you've selected your iPhone, the summary screen will appear in iTunes. In the Backups section, press the "Back Up Now" button.
Wait patiently until the backup completes, which could be a few minutes if it's been a while since your last backup. You can see view the progress of the backup at the top of the iTunes window.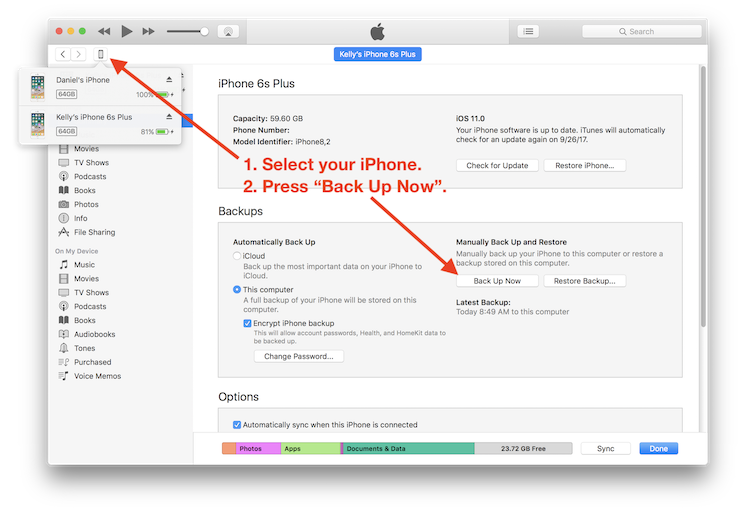 If you don't see the iPhone button in iTunes:
You can also make a backup using the iTunes menus. Select File > Devices > Back Up.
If this is your first time using this iPhone with iTunes:
You may be asked to trust/authorize the computer. If so, unlock your phone from the home screen and press the "trust" button on the dialog that appears on the phone.)
You may see a big welcome screen asking whether you want to set up your phone as a new phone, or restore from a backup. You should choose to set it up as a new device. Scary as the choice sounds, this won't wipe your phone, it just adds the iPhone to iTunes. If you're in doubt, please feel free to contact us and we'll help guide you!
You can also take backups wirelessly if you're unable to plug the phone into the computer often. You can read about how to set up wireless syncing and backing up in one of my previous articles.
Step 2: Download and install Decipher TextMessage
Download the free trial of Decipher TextMessage from our download page. If you're running Windows, open the downloaded installer to start the installation process. If you're on a Mac, open the downloaded DMG and follow the instruction to drag the Decipher TextMessage icon into your Applications folder.
Step 3: Run Decipher TextMessage
On Windows, you'll have a shortcut added to your Start Menu and/or Desktop.
On Mac, your icon should be in the Applications folder in Finder and your Launchpad (or wherever you chose to put it in step 2.) You can also run directly from the downloaded DMG on a Mac as well.
As Decipher TextMessage starts up, it will immediately start importing your text-message data from your iTunes backups automatically. Then, you'll be presented with a listing of your devices that you can click on and find the conversation you want to print.
Step 4: Printing your iPhone Text Messages and iMessages
You can print directly within Decipher TextMessage on both Windows and Mac by pressing the "Print" button.
You can also choose to export the conversation so you have complete control over how the conversation is printed.
Select the conversation you want to print by selecting the device and contact for that conversation.
(On Windows if you plan to print with Google Chrome, in Decipher TextMessage, click "Preferences" and check the option "Use Newer Print Styles for Printing in Safari/Chrome" for a more modern iPhone chat bubble in the printout.)

Choose to export the conversation.

If you'd like the printout to look like an iPhone Messages App interface (with chat bubbles,) select to export the conversation with Text, Photos, and Attachments. (Note that there is also an option to export only a specific date range with text, photos, and attachments, in case you only want texts from a certain time period.)

If you'd just like to print plain text, select to export as Text Only.

Choose a location to put the exported conversation. We'll create a folder in that location named by your iPhone name and the recipient's name with all of the relevant data (like photo attachments!) I like to export to my Desktop, so the exported data is easy to find.

If you're exporting as plain text, we'll put the text file (named by device and recipient) in that location.

If you exported as plain-text, open the text file in the editor of your choice (Word, Pages, TextEdit, WordPad, etc).

If you exported with photos and attachments, we're going to print the exported file from your web browser:

Open the folder (with your phone name and the recipient's name). In that folder there will be a similarly-named html file with the phone name and the recipient name. Right-click on the html file and choose to open it with Google Chrome. (We prefer Google Chrome to print the messages, because it provides a nice and consistent rendering of the messages. You can download Chrome here.)
In Chrome, you should see the same formatted conversation as you would see in Decipher TextMessage. You can bring up printing by pressing Ctrl+P or by pressing the button in the upper right that looks like three dots, and then selecting Print from the drop down menu.
If you don't see color chat bubbles in the print preview, check the print options checkbox that says "Background Colors and Images" — it's usually toward the bottom of the options.
Print!

The file is local on your computer and only you can see it. We use a web browser to print the conversation because it's a program we know everyone has! :)