Selective Restore from an iPhone Backup
No ratings yet.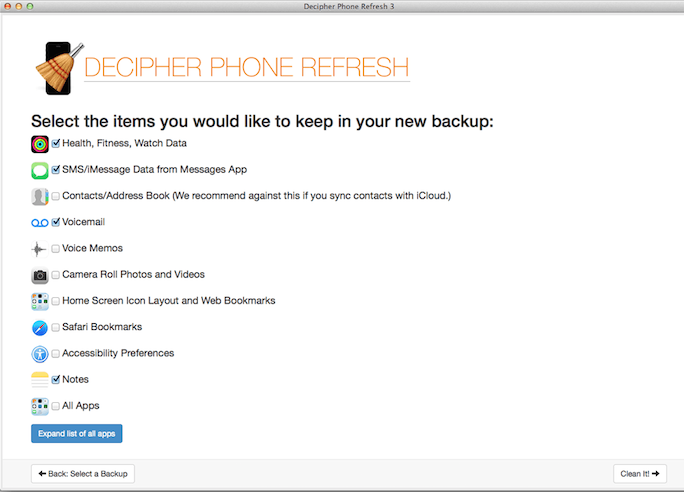 After making our backup repair tool, we started getting requests for a tool to selectively restore an iPhone backup. A selective iPhone backup means you get to pick the data to backup and restore to your iPhone (or iPad or iPod Touch), rather than the usual iPhone backup/restore behavior, which restores the entire contents of the backup, including old settings, app data, and other garbage you may not want anymore. A selective restore can be helpful if you're running low on iPhone disk space, or if you want that fresh iPhone feeling without losing important data. :)
We've created software to help you do a selective restore to an iPhone called Decipher Phone Refresh. Decipher Phone Refresh allows you to take your normal iPhone backup, and create a "filtered" version of that backup, which you can restore like you normally would using iTunes. Here's how it works:
Download Decipher Phone Refresh and install it on your computer.

Run Decipher Phone Refresh, and select your iPhone backup within the program.

Select the kinds of data you want to restore to your iPhone using the check-boxes in the program. Expand the list of apps to select only some apps or check "All Apps" to quickly keep all of your third-party apps and data. (Health/Activity/Apple Watch data work with the free trial of Decipher Phone Refresh; other options require purchasing a license code.)

Press "Clean It!", and proceed through the Decipher Phone Refresh screens until you're told it's "Time to Restore!"

Restore your new selective iPhone backup as you normally would using iTunes. Note that just like restoring any backup, this restore will replace the data on your iPhone with the contents of the selective backup.
Don't see the option for the data you want to keep? Let us know by sending an email via our support page.