How to Export and Save iPhone Text Messages and iMessages
No ratings yet.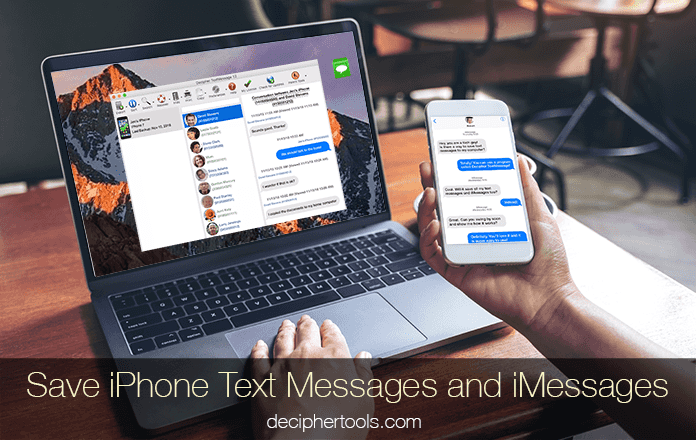 With millions of text messages sent and received daily around the world, many iPhone users often need to export text messages from their iPhone to computer. Today's Decipher Tools tutorial will guide you through the steps so you can quickly save your SMS text messages and iMessages and print them out. We also have a helpful YouTube video below that will show you the detailed step-by-step instructions for saving text messages from iPhone.
Items needed to export iPhone text messages
Windows or Mac computer

iTunes

Decipher TextMessage
In order to save and print text messages, you'll need to have access to either a Windows or Mac computer. In order to backup your iPhone on your PC or Mac, iTunes is required. If you need a copy of iTunes we recommend you access it from Apple's official website. Note: For Mac users running macOS 10.15 Catalina, you can simply select your device in the Finder window and then you will see the option to back up. Lastly, you'll need Decipher TextMessage, the desktop program that will read-in all your text messages and let you export them as a PDF.

Download Decipher Text Message

How to save text messages and iMessages to Windows or Mac computer
Follow these steps to save iPhone text messages and iMessages on PC or Mac
Back up your iPhone.

Run Decipher TextMessage.

Pick a contact that has text messages or iMessages you want to save to computer.

Choose "Export" to save the text messages to your PC or Mac.

Open the PDF of your text messages and iMessages and choose "Print" to print them out.
Decipher TextMessage will import and display all your iPhone text messages and iMessages in the main program window: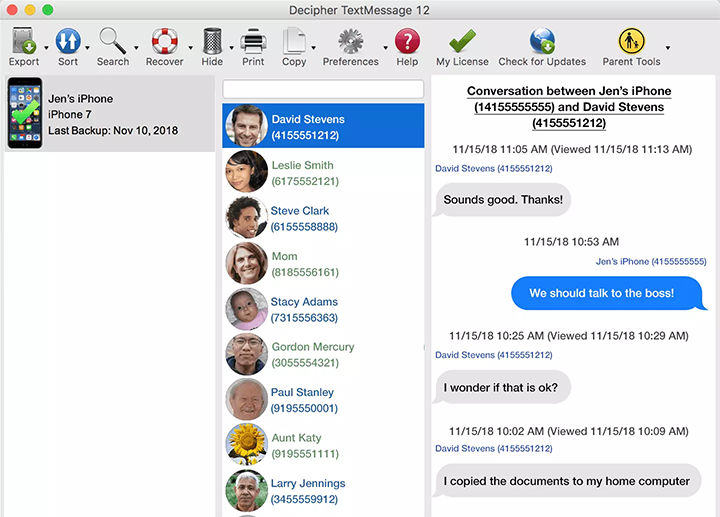 After you save your iMessages and text messages to your computer as a PDF you can print or email your the text messages to anyone!
Pro Tip: Decipher TextMessage has a special preference unique to the program that displays the contact name, phone number, and time stamp / date on every single text message sent and received! This is helpful or business documentation or for anyone that needs to save or print text messages for court, trial, or evidence.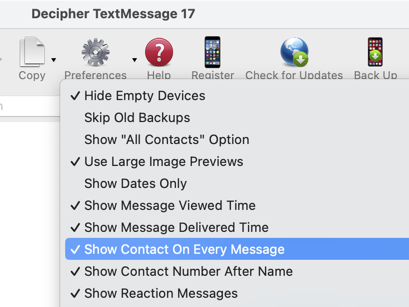 When you export iPhone text messages as a PDF file here's a helpful screenshot example of how the messages look on your computer before you print them out: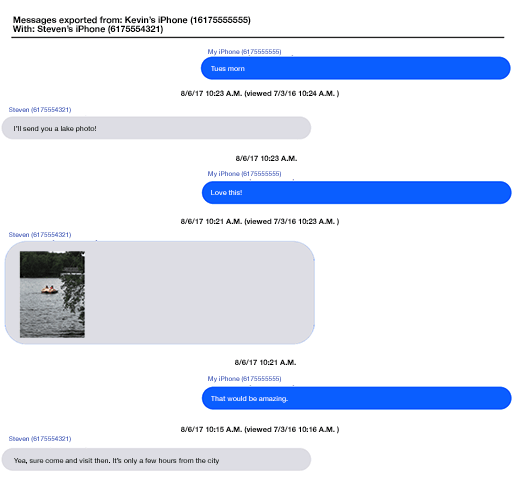 Video instructions to save iPhone text messages
Follow along with our YouTube video for copying text messages and iMessages to computer:
If you need any additional help or guidance to save iMessages or text messages from your iPhone, simply contact us through our support page and we'll drop you a note back to assist!