A Parents Guide to Monitor and Track the iPhone Apps Used by your Child or Teen
No ratings yet.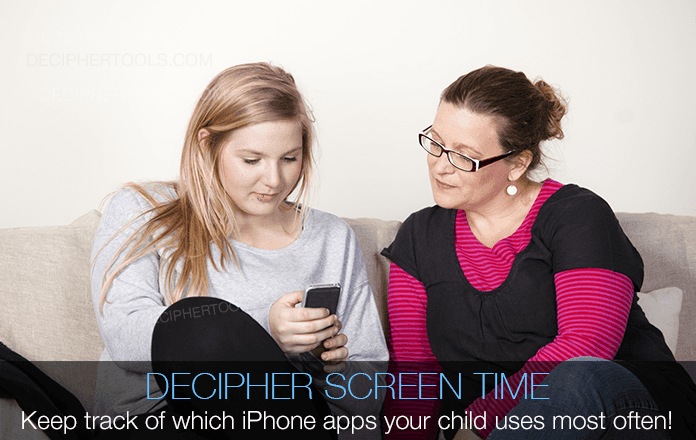 Overview
Decipher Screen Time is a new desktop program that helps parents monitor what specific iPhone apps their children use most often and also the amount of time their child or teen spends on each specific app. The simple, high-level, overview gives parents important device usage information without being too overbearing.
From our direct work with customers, we've found that parents often want to give their children privacy and the room to make the right choices when it comes to their mobile devices. However, Mom and Dad are also looking for a happy medium where they can easily access basic iPhone / iPad data to make sure they approve of the types of apps their kids are using and also the amount of time spent on those apps.
How do I track what apps my child or teen is using on their iPhone each day?
Decipher Screen Time provides parents with the following information:
A list of specific apps your child uses and the amount of time spent on each app!

The specific days and times of the day the apps were used. This is great for parents who want to know if their child is using their iPhone or iPad past their bedtime!

Links to each app on the App Store, where you can read a description of the app, preview screenshots, and download it yourself. This is great for parents who are unsure about what an app does or why their child has it on their device!

What apps are using the most carrier cell data on your kid's phone.

What specific apps are on your kid's phone are using the most Wi-Fi resources.

Battery diagnostics showing how the iPhone's battery level is throughout the day, allowing you to see what's running during times of heavy battery drain.


Specific Steps
How to get started monitoring your Teen or Child's iPhone app usage.
Step 1: Capture iPhone Diagnostics Log – In order to access app data with Decipher Screen Time, you'll first need to quickly capture the iPhone diagnostics file on the device. This takes about two seconds and can be done by even the most novice user.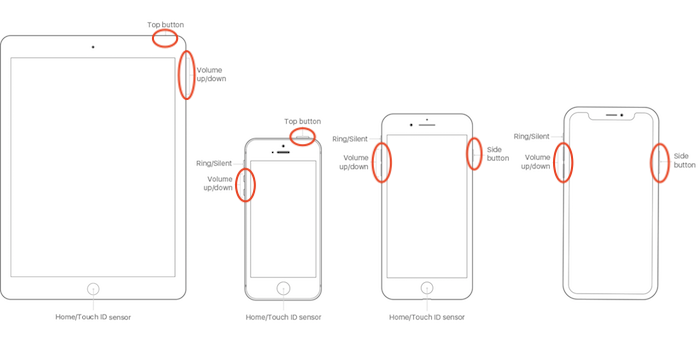 With your child's iPhone in hand, simply press and release three buttons at the same time on the device itself. Those buttons are: Volume up, Volume down, and the Lock button. After you press, hold, and release, you will immediately feel a small vibration which lets you know the diagnostics files was captured. The reference image above displays the correct button configuration for different iPhone and iPad models.
Also, here's a short instructional video to assist with this process which many customers find helpful:
Step 2: Plug your iPhone into your computer – Connect your iPhone to your computer either via your USB cable or via Wi-Fi. If you have never plugged in your device before you will have to tell iTunes to "trust" this computer. You will also need to select "trust" on your iPhone or iPad. Pro tip: If you have Wi-Fi syncing enabled for this iPhone in iTunes, you do not need to plug in the iPhone. Note: If you already have an existing diagnostics log on the phone it will automatically be presented to you as an option.
Step 3: Run Decipher Screen Time – When you launch Decipher Screen Time you'll be presented with the option to copy a new diagnostics file. Simply select the device and the copying process will then start immediately. If your phone is connected via USB the process should go very quickly. If your phone is connected via Wi-Fi to your computer it might take slightly longer. Either way, the process is usually simple and quick!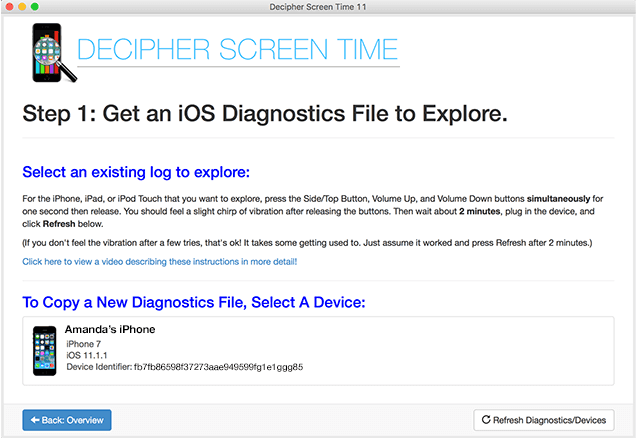 If you don't see a diagnostics file when you open Decipher Screen Time, please try Step 1 again and make sure you capture the diagnostics log. After doing so, simply hit "refresh" in the lower right-hand corner of Decipher Screen Time and select your iPhone to try copying the diagnostics file one more time.
Step 4: Choose which data you would like to view – Most people start by selecting the "Top Apps On Screen" option which will immediately show you all the recently used iPhone apps on your child's phone and also the total amount of time that specific app was open and used.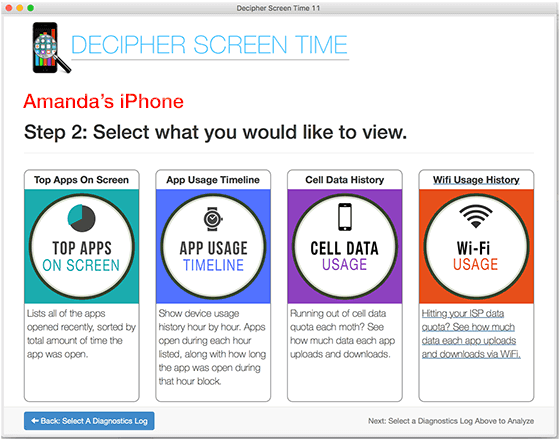 Step 5: View your child's app usage data – The "Top Apps On Screen" option presents data in a clear and concise format. If parents see that their child is using a specific app however they are unsure what the app's function is, the parent can click on the app and they will be taken to the iTunes store for a description of the app.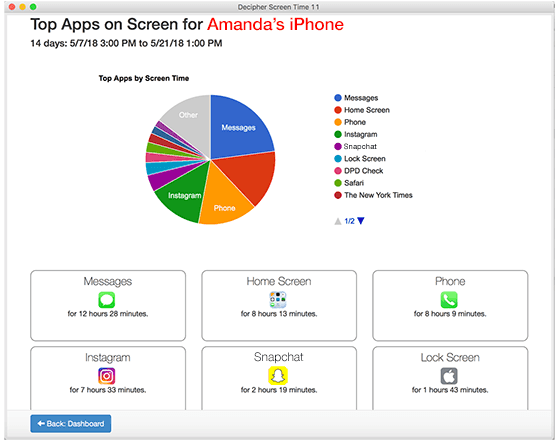 Benefits of Using Decipher Screen Time
All your child's app data is local to your computer and private - Nothing is ever stored remotely on a server. We take privacy very seriously and we designed the program so that the parent is in complete control. You can also read customer testimonials here.

No passwords or personal information are required - Decipher Screen Time runs never asks you to provide any personal data or iTunes or iCloud log-in info.

Free Trial - The free trial requires no payment and enables any parent to see if the program is right for their needs before purchasing. The trial will display the amount of time apps were engaged, however to view which specific apps are being used, the parent would need to purchase a license code for $9.99 to gain full access. There are also no recurring fees or monthly billing with the software.

Customer support that actually responds - We pride ourselves on our providing outstanding support for all our Decipher Tools products. If you write us regarding an issue with Decipher Screen Time, we'll reply to you via email in a timely fashion.

Money-back guarantee - If you have any problems with Decipher Screen Time that we can't troubleshoot or solve, we'll refund you.
Giving Parents Peace of Mind
The goal of Decipher Screen Time is to provide parents with the knowledge and information of what iPhone apps their child or teen uses on a regular basis. The data presents a high-level overview enabling parents to be kept informed, but from a distance so that their son or daughter feels that their privacy is being respected. We also developed Decipher Screen Time with the direct feedback from parents!
If you have any questions, comments, or feature suggestions, we welcome you to get in touch and contact us. We're USA based software company in San Francisco and Phoenix and we always reply to everyone.