A Guide for Real Estate Agents and Brokers to Print Text Messages
No ratings yet.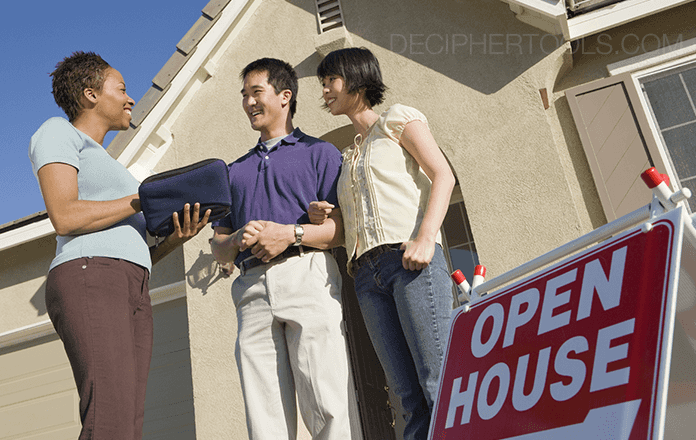 If you are a realtor or if you work in the real estate industry then you probably use text messages to regularly communicate with clients as well as colleagues in your firm or office.
Whether you've been in the real estate world for many years and work at a well known firm like Douglas Elliman, Compass, Coldwell Banker Realty, or if you just recently earned your real estate license and are in the process of seraching for a company to join, our tutorial will help ensure that you have the knowledge to save copies of all your real estate related text messages with clients and fellow realtors!
Real Estate Market - 2023
According to the National Association of Realtors, in February of 2023 existing-home sales rose about 14.5%. This is the largest monthly percentage increase since July 2020. The NAR also reported that while all regions of the United States displayed a rise in month-over-month sales, there were declines in year-over-year home sales.
In today's real estate market and with an increased client load of both buyers and sellers, realtors are finding themselves with a consistent need to archive, document, and retain copies of daily real estate-related text messages. Even just back-and-forth daily text messages with clients regarding potential home purchases often need to be captured and sometimes printed out.
How do real estate agents, brokers, and homeowners save and print text messages?
Decipher TextMessage is a desktop program used by many realtors and real estate agents to to transfer iPhone text messages to computer and print them out as a PDF. The program runs on any Windows or Mac and all your text message saved with the software are private and local on your personal PC!
Simply backup your iPhone or iPad on your computer and Decipher TextMessage will read-in all your text messages, photo attachments, and videos. You can then instantly save, archive, and print the text messages.
If you work in any aspect of real estate and are sending text message attachment copies of house photos, property deeds, inspection reports, escrow information, or any other pertinent transaction-related information, all these attachments are included in the saved PDF document generated with Decipher TextMessage.
Here's what Decipher TextMessage looks like when running the software on your Mac or Windows computer: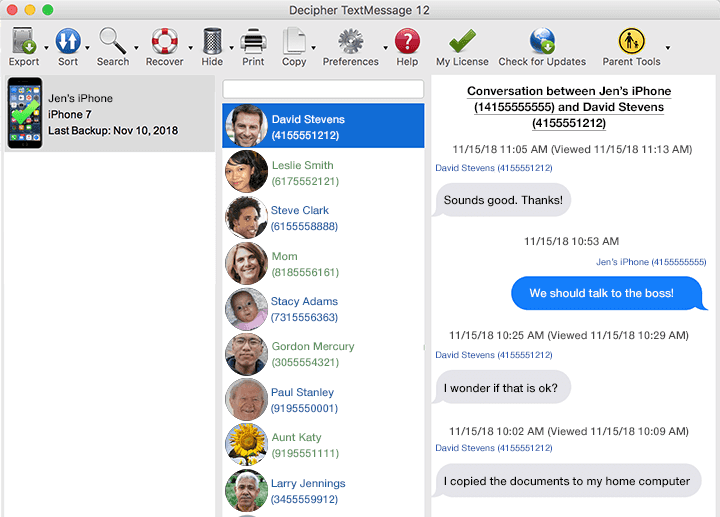 Download Decipher Text Message


Follow these steps to print text messages for real estate transactions
Back up your iPhone on your computer.
Open Decipher TextMessage, select your iPhone.
Choose a contact whose text messages you need to save for realtor-related business.
Select Export as PDF to save text messages to computer.
Open the PDF and select "Print" to print out real estate text messages.
Printing text messages for only a specific range of days or dates
If you have a lot of text messages with one real estate client or individual, you might only need to print just few selected messages from a certain time frame. With Decipher TextMessage, this is easy. Select Export PDF w/ Date Range option in the program and you can narrow down the date range of the SMS messages and iMessages that you want to export.


Is there way to have the contact name and phone number on every single text message print out?
Yes! If you choose "Preferences" in the menu you can enable the option to "Show Contact on Every Message." This is a great feature unique to the software which enables you to document who sent and received each message on every single text message exchange. Also, note that the software displays the time stamp on each individual text message!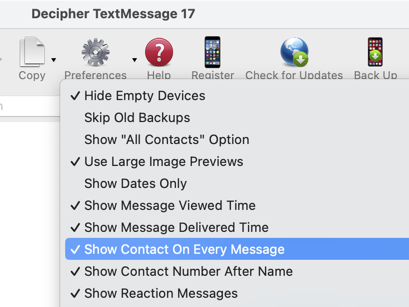 Printing text messages to document real estate transactions - Video Instructions
We also have a helpful YouTube video that any realtor or real estate agent can follow along with to save and print real estate-related text messages and attachments.
Wrapping up
Once your text messages are saved and printed you will forever have the messages and attachments at your disposal on your personal computer. Should the need ever arise to access any of your text messages or iMessages with clients or other realtors, you'll be able to do so right away. This is a great feeling!
We hope today's tips have been helpful. Now you can start printing your iPhone text messages and making sure your important real estate communications are safely backed up!