How to Make an iPhone Backup on your Windows or Mac Computer
No ratings yet.



Each week and month that goes by we accumulate more and more SMS text messages and iMessages on our iPhones and iPads. Many people never back up their devices and as a result they run the risk of losing all their iPhone text messages and other data should their iPhone ever become lost, broken, or stolen. While backing up to iCloud is one option to ensure data is kept safe and sound, Apple iCloud only offers users 5 gigs of free storage space. For this reason, we recommend that every iPhone user regularly make a local iTunes backup of their device on their own personal computer. This will ensure that a local copy of text messages and other data is safe and sound and that the user always has access immediate access to the backup.
Instructions on how to make a backup of your iPhone on your computer:
Plug your iPhone or iPad in your computer and launch iTunes.
In the left corner of the iTunes window select the device icon.
Locate the "Backups" section of the "Summary" screen that appears.
Select the "Back Up Now" button and iTunes will commence making a local backup.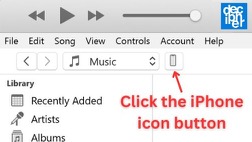 Depending on the size an contents of your device a backup can take a little time. You can monitor the progress in the iTunes menu bar. Do not unplug your device during this time until the backup is complete!

We recommend making a local backup of your iPhone either weekly or bi-monthly in order to ensure that copies of your SMS text messages and other data are stored safely on your local computer.
After making a local backup, you can also transfer and export your SMS text messages from iPhone to your computer where you can print them or save your iMessages in a PDF document. For specific instructions on transferring text messages to your Mac or Windows computer please see our other helpful blog post.
Now what are you waiting for? Start making a local iPhone back up on your computer today!