iOS 11 Update - Recover lost or deleted photos that were erased after upgrading to iOS 11
No ratings yet.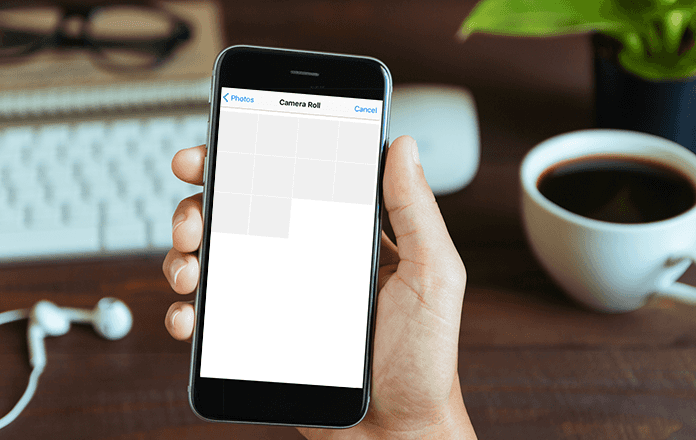 Upgrading your iPhone or iPad to the newly released iOS 11 can be both exciting and a bit terrifying at the same time. It's a thrill to download Apple's newest operating system for your iOS device, however whenever you update your iPhone or iPad with a new iOS there is always a chance that important data can become lost or corrupted.

Often times one of the primary kinds of data that gets deleted during an iOS update are photos or videos from one's iPhone camera roll. If you have recently updated to iOS 11 and lost some of your iPhone camera roll photos or videos, don't panic! Chances are that you may have previously backed up your iPhone via iTunes in the past which means there is a good chance that the deleted photos are recoverable. The free trial of Decipher Backup Browser will instantly show you all the photos that are retrievable from any iTunes backups on your Windows or Mac computer.
Instructions On How To Recover iPhone Photos That Were Deleted During the iOS 11 Update
Step 1. Install Decipher Backup Browser on your computer.


Step 2. Select your iPhone backup.


Step 3. Choose "Camera Roll" from the center menu.


Step 4. Instantly see all the recoverable photos in your iTunes backup!
When you download and install Decipher Backup Browser on your computer, any iPhone backups that are available will appear instantly in the left hand column of the program. If you select "Camera Roll" in the middle column and you don't see any images, we recommend that you then choose the "All Photos / Videos" option in the middle column of the program. This will give you a comprehensive overview of every single picture or video in your backup!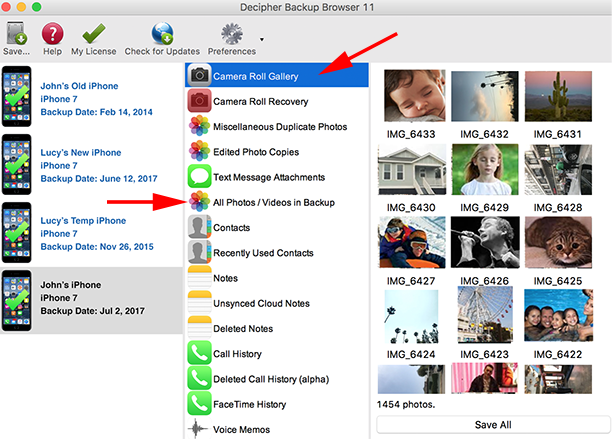 Another tip is to make sure you are running Decipher Backup Browser on the computer where you previously backed up your iPhone or iPad. Likewise, if you have older backups on other computers (the software works on both Windows and Mac), you can install the program on those machines or you can copy those older iPhone backups over to your current computer and then restart Decipher Backup Browser. Once the iPhone backups are located in the default location on your computer, Decipher Backup Browser will recognize them. If you are not sure where your iPhone backups are located on your computer, Apple has tips and instructions here on their website.
Many times your lost iPhone photos are accessible in your iTunes backup!
We hope this quick tutorial overview about recovering iPhone photos that were lost during the iOS 11 update has been helpful. Be thorough and make sure you check all your computers, both past and present machines, to see what photos are located in the legacy iTunes backups. If you have any questions or need help, don't hesitate to contact us. We have offices in San Francisco, California and Phoenix, Arizona and we respond to everyone! Just email us via our support page and we'll be happy to reply back! We are always happy to help!