How to Recover Deleted Photos from an iPhone
No ratings yet.

Unfortunately, if you're reading this, you've probably lost or accidentally deleted pictures from your iPhone. First, we're sorry to hear that! Next, let's try everything we can to help you get them back!
I assume that most people reading this article are looking to recover deleted photos from the iPhone "Camera Roll" album, the photos you took on the iPhone itself. If you're looking to recover other kinds of photos/images and videos, we'll address a few others further down in this article, or leave us a comment if you don't see the photos you need discussed!
Finding Photos Deleted From the Camera App
Don't plug your phone into your computer or anything yet. We don't want to overwrite any possible backups with the photo by making a new backup in iTunes.
Download and run the FREE trial of Decipher Backup Browser.

Decipher Backup Browser will scan your computer automatically for iPhone backups and show you all of the backups it found, without you having to know if or when they were made.

Select a promising looking backup, and then select "Camera Roll Gallery".

Decipher Backup Browser will show you the photos in the backup from iPhone Camera roll, newest first.

Double-click individual photos to open them or press the Save button to save the photos you want.
Even if the photos were in the recently deleted folder when the backup was made, you'll still see the photos here.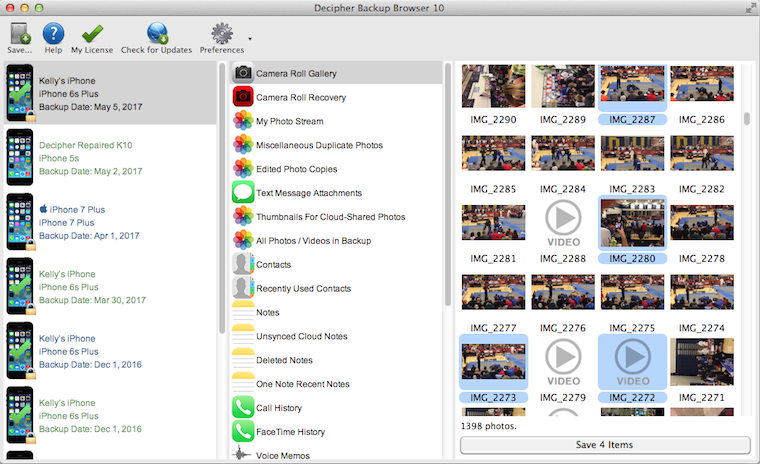 View and Recover Messages Photos
Did you send your missing photo to anyone via SMS/MMS or iMessage? If so, there may be a copy of the photo sitting in your Messages app.
You can open Messages on your iPhone and dig around for the photos, or you can use Decipher Backup Browser to help you here too. The following is also effective if you're looking for deleted Messages app attachments. This will show the images or videos from your Messages app if it's there in the backup to be found, even if the Messages app is crashing or broken and you're not able to view the original SMS/iMessage itself.
Run Decipher Backup Browser, and select a backup that should contain the photos and videos.

Click "Text Message Attachments" to see all of your iPhone sent/received text message photos and videos arranged from newest to oldest.
Other Kinds of Deleted iPhone Pictures to Recover
Decipher Backup Browser has an "All Photos" section that will show you all of the items in the backup that appear to be an image file. This can be great to find missing photos even from less popular apps. However, we try to support a lot of popular apps such as:
WhatsApp
Viber
PhotoVault
Jott Messenger
Flickr (cached photos from the Flickr app)
Vaporchat/Fade Messenger
Keep Safe
If your needs weren't addressed in the sections above, feel free to leave us a comment about the source of the picture (what app you were looking at it in, for example) and we'll brainstorm up a way to find it hopefully!