Seven Ways to Recover Deleted iPhone Photos
Rated (5.0 of 5.0) by 1 reviewers.

Unfortunately, if you're reading this, you've probably lost or accidentally deleted pictures from your iPhone. First, we're sorry to hear that! Next, let's try everything we can to help you get them back!
We're going to walk through some of the "usual" techniques for recovering photos you deleted on your iPhone, but then also get into some ideas you may not have tried to get back photos you deleted. Many of these ideas apply regardless of whether you deleted the photos from the Photos app, or whether you deleted photos from Photo Vault, KeepSafe, Viber, WhatsApp or any other app on your iPhone.
Check the Recently-Deleted Folder.
I would be remiss if I didn't immediately first mention the Recently Deleted folder in the iPhone Photos app. If you deleted the photos yourself from the iPhone Photos App, they will usually be recoverable from the Recently Deleted folder for 30 days!
Follow these steps to recover deleted photos from the iPhone Recently Deleted folder
Open the Photos app on your iPhone.
Tap the "Albums" tab at the bottom of the screen.
Tap "Recently Deleted" under "Other Albums".
Tap "Select" and select which photos to recover or tap "Recover All" in the lower right corner.
Tap "Recover" in the lower right corner after selecting which photos to recover.
Look for deleted photos in an old backup.
Don't plug your phone into your computer just yet! We don't want to overwrite any possible old backups that might have the photos in it by making a new backup. iTunes typically overwrites the old backup of the same phone with the new one.
Using Decipher Backup Browser you can quickly look at all of the photos in your backups to see if the deleted photos are recoverable from the backup. You can use the free trial of the program to preview what is available and see thumbnails of all of the photos and videos in your backup.

Download Decipher Backup Browser


Follow these steps to recover deleted photos from an iPhone backup and save them to your computer
Run Decipher Backup Browser.
Select a backup.
Select "Camera Roll Gallery".
Double-click individual pictures to recover the photos.
Select save to save the recovered photos to your computer.
Even if the photos were in the recently deleted folder when the backup was made, you'll still see the photos here.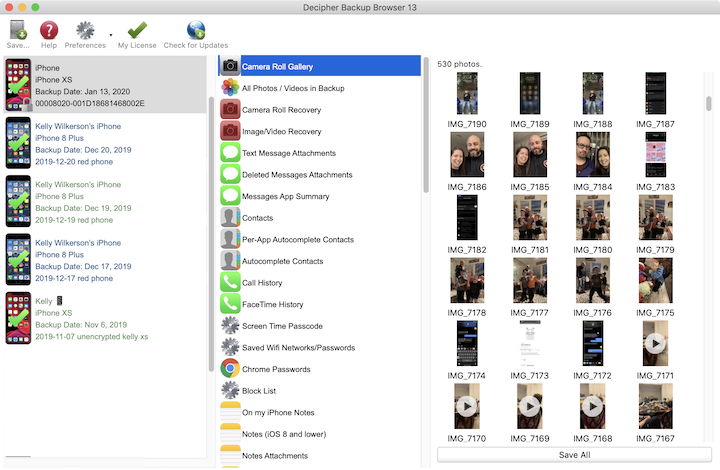 Look for deleted photos in other apps from a new backup.
Did you send your missing photo to anyone via text message, WhatsApp, Viber? Or, did you import it into another app for making a collage like Pic Stitch? You can open the various apps on your iPhone and dig around for the photos, or you can also use Decipher Backup Browser to help you here too. Even if you didn't have an old backup to look through, you can make a new one now, and look through all of the photos in that backup.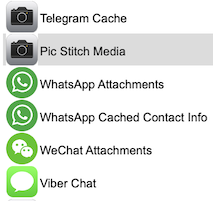 Follow these steps to search for deleted photos in all of your iPhone app data
Run Decipher Backup Browser, and select a backup that should contain the photos and videos.
Click "All Photos/Videos in Backup", or select a specific section like "Photo Vault Media", "Messages App Attachments", "KeepSafe", etc.
Double-click individual photos to open them or press Save to save them.
Look at Old Computers/Devices
If you have other computers you may have plugged the iPhone in to in the past, check those computers for iPhone backups. Or check the Photos app on your computer.
Do you have any older iPhone/iPad devices around that you maybe didn't reset to factory settings? Charge it up and power it on, and cross your fingers!
Check your Cloud services.
Check iCloud Photos via the iCloud website in case they're uploaded to iCloud Photo Library.
Check Google Photos if you have used the app in the past.
Check your Dropbox photos if you have used Dropbox for photo copies in the past.
Did you send or receive any of the photos via email? Check your sent or trash folders for copies of the emails.
Check with your Friends/Family/Spouse.
Did you send some of these photos to friends or family? Ask them if they can text it back to you.
Does your spouse have the same or similar photos on their iPhone?
Were there other people present when the photo was taken that may have a similar one?
Did you share or message any of the photos on social media?
Check your Photo Services.
Have you used any companies like Shutterfly, Mixtiles, or MPix? If so, check their site to see if the photo is stored there.
If you used those sites, do you still have the book/montage you created with that photo?
Did you get prints from a store like Walmart/Walgreens/CVS Photo Center? Does the store have a record of your photos, either on their site or in store?