Recovering Snapchat Friends Metadata
No ratings yet.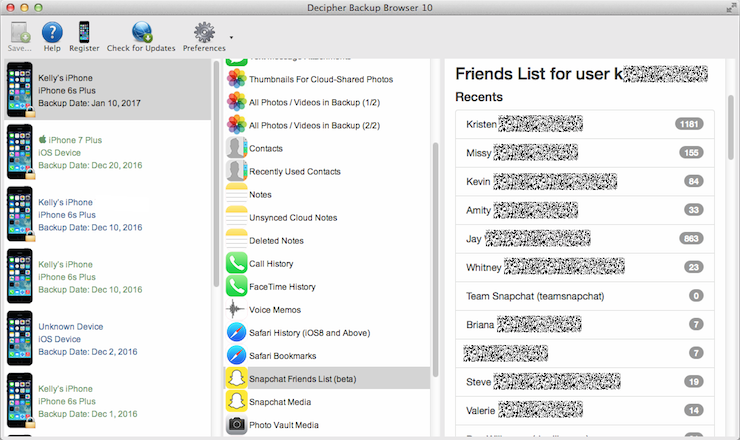 As I wrote about in an earlier post: it seems as though the latest Snapchat updates remove a lot of the metadata that Decipher Backup Browser leveraged to recover Snapchat activity.
We spent some time rummaging through the available metadata in iPhone backups made running the latest two updates of Snapchat. We didn't find a fresh awesome copy of the metadata we used to recover, but we did find some friends list metadata. Our latest update of Decipher Backup Browser includes the Snapchat friends list summary. Of note are the "recent" contacts, along with the "sequence number" for each contact. We don't have a precise definition of what this number means, but it's probably a rough approximation of how many messages have been sent back and forth with that contact (since the sequence number last reset, depending on what they use it for.)
If you're looking at a backup from an iPhone, iPad, or iPod Touch running an older version of Snapchat before the updates, Decipher Backup Browser will still show you the old text message history metadata if it's available. Additionally, Decipher Backup Browser may show you "Snapchat Friends List" information now too if you're using one of the newer Snapchat versions.