A Guide for Lawyers to Manage and Save Text Messages with Clients
Rated (3.0 of 5.0) by 1 reviewers.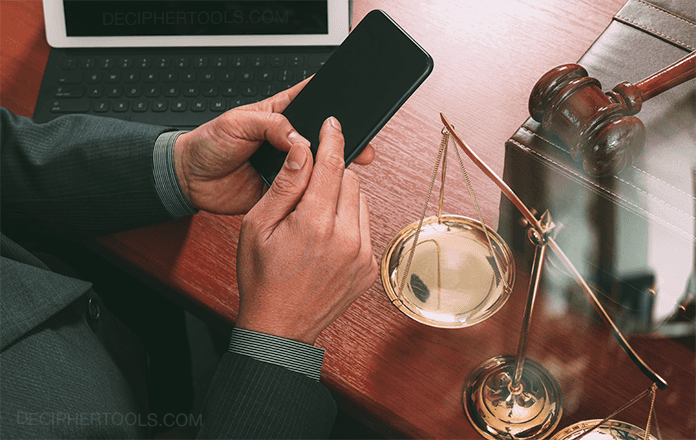 Attorneys and lawyers are often faced with the challenging task of whether to engage with clients via text message. Texting is now one of the most widely used forms of communication internationally and in 2021 this spills over into the legal and business world. When a lawyer and a client frequently exchange text messages, the lawyer will often reach a point where he or she needs to decide on the best method to save, archive, and print all client related text messages conversations.
Should lawyers communicate via text messages with clients?
When a potential client first approaches a law firm or attorney to discuss working together, the initial consultations are most always in person. Follow up meetings then occur via phone, video conferencing, and email. After a lawyer agrees to work with someone, the attorney can quickly find that they are suddenly on the receiving end of text messages from the newly acquired client.
Sometimes client text messages are short communication bursts of a more administrative nature, with the client sending texts simply for scheduling purposes and other non-confidential information exchange. However, these text conversations can graduate over time to include photos attachments and other pertinent details or perhaps even evidence related material. Managing this data can get a bit overwhelming and the challenge is to then figure out what the best method is to archive and keep records of all the text message-based communications.
Large law firms versus small law firms
Smaller firms with only a few lawyers often have the ability to decide individually within their office how they want to handle preserving client text messages. At these firms, there is usually no need to get corporate approval from a CTO or in-house IT department.
Meanwhile, larger firms often have policies in place with the goal to try and ensure that text messages from clients are captured and archived for record keeping, billing, and discovery purposes. Even with these policies in place, the onus is most always on the lawyer to make sure they are regularly saving and archiving all client SMS related communications.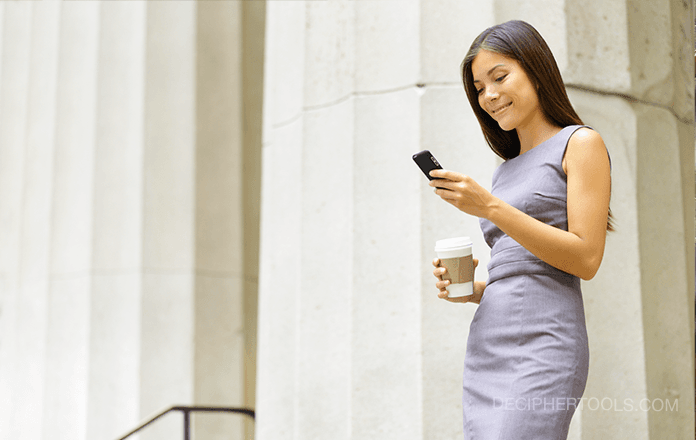 Benefits for lawyers to retain and save text messages
Accountability and Record Keeping - All client directives or decisions that were sent via text message will be readily available to review if needed.

Billing - Saving client text messages enables a lawyer to accurately bill for their time based on the amount of messages and time taken to respond.

Secondary Copy - Should the attorney ever lose or have their mobile device stolen, they will always have a backed up copy of the messages stored on their computer, external hard drive, or in the cloud.

Printing Text Messages - Having a hard copy print out or PDF of text messages enables any lawyer or legal assistant to have a physical copy of the SMS conversations for archiving, meetings, or to submit for court or trial related evidence purposes.
Attorneys who use Android Devices
For attorneys who use Android devices, there is a free program in the Android Store called SMS Backup+ that enables attorneys to back up their text messages. The program functions on all Android phones and utilizes Gmail to initiate SMS and MMS backups.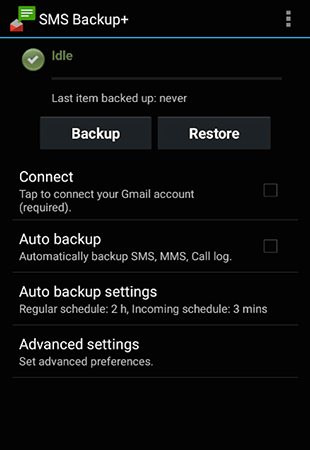 Steps for lawyers with Android phones to manage and save text messages:
Activate SMS Backup+ on any Android Device.
Set up a Gmail account.
Select the "Connect" box to begin downloading text messages.
Accept permissions request.
Selecting "Grant Access."
Choose "Sync" and "Backup."

The software also has a helpful FAQ page for questions about the product. There are also customer reviews and comments in the Android Store and as of March 2018 the product has received over 40,000 Five-Star reviews from users.

Lawyers or Attorneys who use iPhones or iPads
For lawyers who have iPhones or iPads, the software Decipher TextMessage is a welcomed addition to any legal or law firm workflow. The program is an already widely established tool in the legal world and the software runs on either Windows or Mac computers.
Decipher TextMessage lets users save, print, and PDF messages with any contact on their iPhone or iPad. The program also has a unique feature that which includes the ability to display the contact on every single text message, both sent and received. This often helps lawyers with billing, time allocation, and overall documentation purposes. Some judges even like this feature when it comes to submitting text messages for evidence purposes in a court of law.
Privacy: All text messages saved, archived, and managed with Decipher TextMessage are local to the individual's computer and nothing is stored in the cloud. Only the user has access to the saved text messages which ensures privacy and data safety, something that is of great concern with the data breaches that seem to be occurring at more regular intervals for companies and firms over the last few years.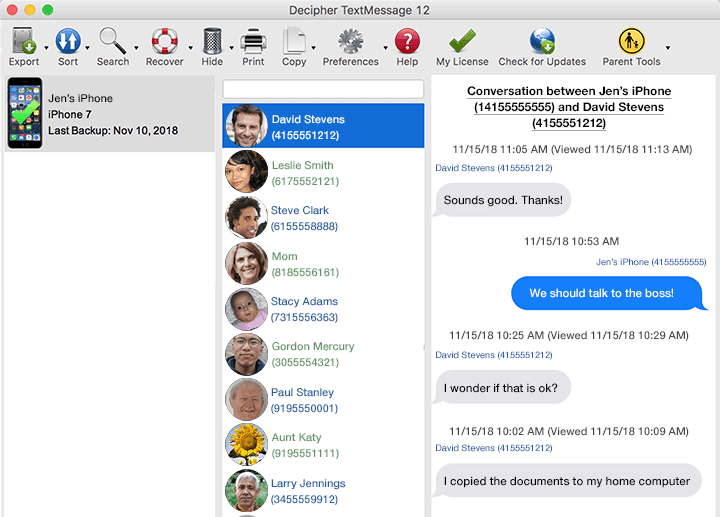 Follow these pecific steps for lawyers to save and print iPhone text messages on any computer:
Backup an iPhone.
Launch Decipher TextMessage.
Choose a contact.
Select Export as PDF to save text messages to the lawyer's computer.
Open the PDF and print out client text messages and iMessages.

Download Decipher Text Message

All text messages exported with Decipher TextMessage in PDF format will appear just as they do on the iPhone itself with "chat-bubble" formatting and design just like in the reference example below. Note that the contact name and phone number is applied to every single text message.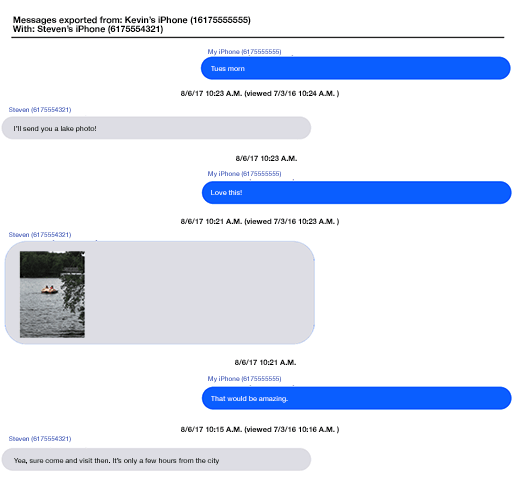 Decipher TextMessage is compatible with iPhone backups from iOS 4 through iOS 14. The software also iOS 17.1.2 and 17.2 beta compatible. You can read Decipher TextMessage customer testimonials here and there is detailed product info and specs on the Decipher Tools website.
Video tutorial for lawyers on how to print and save client text messages for court.
The steps in our video tutorial will enable any lawyer, attorney, or their clients to export and save text messages as a PDF.
Managing text messages in today's legal world of 2021
How to effectively and conveniently manage client text messages is an ongoing need and dilemma for attorneys around the world. Whether you own an Android device or an iPhone, we hope that today's guide has been helpful as you begin to consider the best workflow or methods your own firm's needs.
We encourage you to begin backing up and saving all your client text messages to ensure that you have records of the exchanges. Start on a monthly or weekly basis at first and see how that is working for your needs. This will ensure that all your client communications via text are archived should the need ever arise where they need to be reviewed.
If you have any questions about how best to manage your text message data for your own firm or clients, simply contact us via email and we will be more than happy to write you back and assist. Our offices are located in San Francisco and Phoenix and we reply to everyone.