How Do I Copy an Entire Text Message Conversation from iPhone to Computer?
Rated (4.0 of 5.0) by 17 reviewers.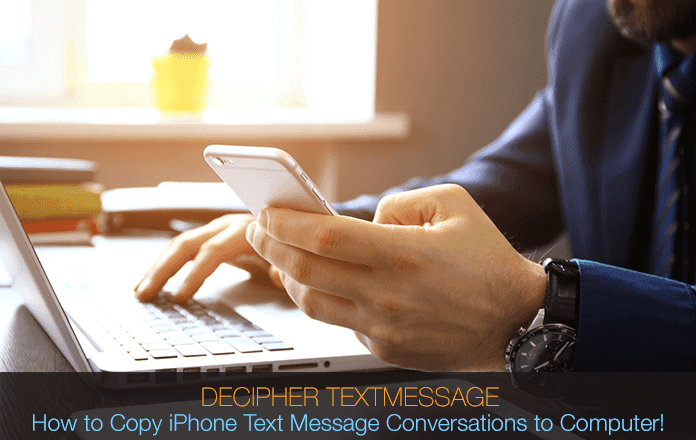 Summary
Today's instructions will explain how to copy iPhone text messages to any Windows or Mac computer. Once you have saved the text messages as a PDF file you can also easily print out the SMS messages and iMessages including photo attachments.
Quick steps to copy iPhone text messages to your computer
Backup your iPhone using iTunes on your computer.
Open Decipher TextMessage
Select your iPhone and a specific contact whose text messages you want to copy and save.
Choose "Export via PDF" from the menu to copy and transfer the text messages to computer.

Download Decipher Text Message

Detailed Steps
Copying text messages from an iPhone to computer is helpful for a wide array of different circumstances. Some people like to save text messages from family members or loved ones and others have a need to copy text messages for court, trial, legal reasons, or for other general business uses. Whatever your specific needs are, it's easy to preserve and transfer the text messages with the help of Decipher TextMessage.
The following steps let you copy text messages to computer on both Windows and Mac:
Plug in your iPhone to your computer with the USB or lightning cable.
Open iTunes and select your iPhone.
Choose "Back Up Now" and monitor your iPhone being backed up on your PC.
Open and run Decipher TextMessage.
Select your iPhone in the left-hand column.
Choose a contact whose text messages you want to copy to your computer.
Pick "Export" from the menu and choose the "Export via PDF" option.
Select a folder or directory on your computer when you want the copied text messages to be saved and stored.
After you've successfully saved your text messages in a PDF file to your computer, you can now print them.
Locate the PDF file saved by Decipher TextMessage on your Mac or Windows computer.
Open the PDF and review the document to makes sure the text messages you want to print are all present and displayed accordingly.
Choose print or use the key commands "Command + P" on Mac or "Control + P" on Windows to open up the print dialog box.
Select print and to print out the PDF of your saved text messages that you copied to your computer.
Here is an example of what text messages look like when copied to computer as a PDF.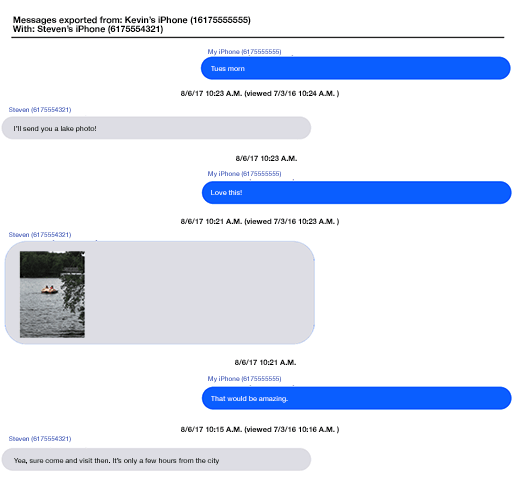 Note that Decipher TextMessage displays time stamps of when messages were both sent and received. The program will also display the contact on every single text message. This is helpful for documentation, discovery, lawyers, and realtors who need to keep track of who sent and received each specific SMS message.
When saving or printing iPhone text messages with Decipher TextMessage, all your data is private and local to your computer. The user controls everything and nothing is stored on external servers or in the cloud.