How to search and recover photos from an iTunes backup - iPhone
No ratings yet.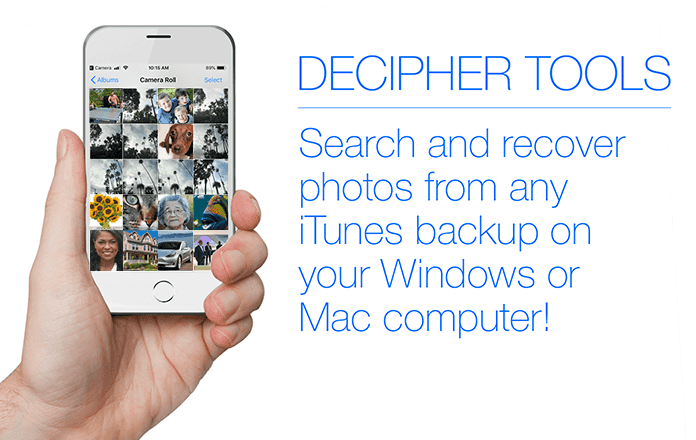 Checking to see if you can recover photos from an iTunes backup might seem like an impossible task, however it is a lot easier than one might think! Today we'll show you how to quickly search and extract pictures from your iTunes backup on any Mac or Windows computer.
It's a frustrating feeling when your important iPhone photos get deleted or lost. Even with a lot of searching and scrolling on the device itself, it can still be difficult to make sure you've done everything possible to find the missing iPhone photos.
Often the lost pictures were in the camera roll, other times the missing images were text message attachments, or perhaps photos were contained in one of the many apps on your iPhone or iPad.
Today we'll show you how to search for missing pictures and retrieve photos from any iTunes backup.
Follow these steps to recover photos from an iTunes backup
Launch Decipher Backup Browser on any computer.

Select a backup.

Choose "All Photos or Videos in Backup."

Pick the photos you want to recover or export.

Click "Save" to extract and recover the photos.

Download Decipher Backup Browser


Here's a screenshot of how Decipher Backup Browser displays recovered iPhone photos in your iTunes backup: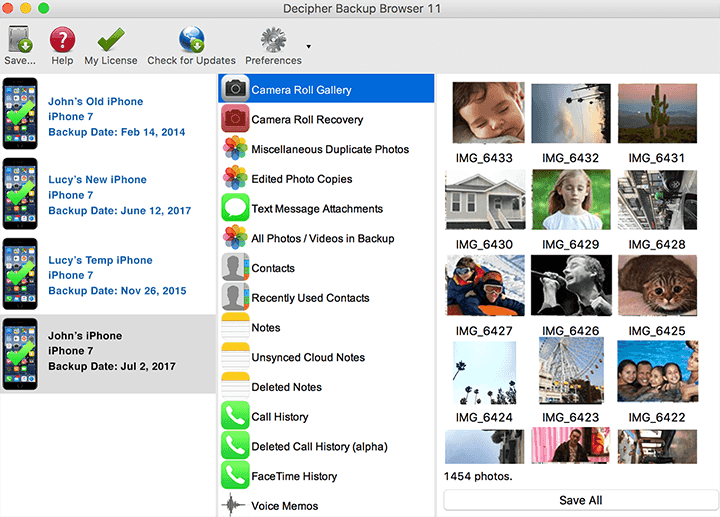 See, search, and recover photos in any iTunes backup
Decipher Backup Browser offers you a quick and effective solution by giving you the ability to instantly see every photo contained in your entire iPhone backup! You'll know almost right away if you missing photos are recoverable. If you backed up your iPhone at some point in the past, then chances are you will hopefully have luck locating some photos contained in the iTunes backup on your computer.
You can search for missing iPhone photos in your iTunes backup with these helpful options:
Camera Roll

Camera Roll (Recovery)

Image / Video Recovery

Edited Photo Copies

Thumbnails for Videos

Camera Roll Thumbnails

All Photo Thumbnails

All Photos / Videos in Backup
Extra Step: If you are unsure where specifically the missing or deleted iPhone photos might be located in the iTunes backup, we recommend choosing the "All Photos / Videos in Backup" and "Image / Video Recovery" options to search all images in your entire iTunes backup.
Check older computers to search previous iTunes backups for deleted photos
You can also install Decipher Backup Browser on an unlimited amount of computers! This is helpful in case you perhaps have any legacy iTunes backups on older computers and you want to run the program on any PC or Mac to search for missing photos. Don't forget also to check iTunes backups that might be on a computer of one of your family members or loved ones.
Do you need additional help or have questions about how to extract or recover photos from your iTunes backup? Simply drop us an email here at Decipher Tools Headquarters and we'll reply back with assistance!