How to View and Recover PDF files from any iTunes or iPhone backup
No ratings yet.

Have you ever need access or recover a PDF document that was on your iPhone or iPad but you can no longer find or locate the file? Are you curious what legacy PDF files reside on your iPhone or in your iPhone backup?
Decipher Backup Browser is a helpful desktop program that has the ability to view and recover PDFs from any iPhone or iPad backup. This means everything from your important iBooks, Audible PDFs, or even something personal and sensitive like bank statements or work related PDF files. With our virtual lives residing on our phones, Decipher Backup Browser is a great tool to not only recovery PDFs from your backup, but also to have a better understanding of what specific data lives on your iPhone.

Download Decipher Backup Browser


Steps to save and recover PDFs from an iPhone or iPad
Backup your iPhone or iPad on your computer.

Open Decipher Backup Browser and select your iPhone or iPad.

Pick "All PDFs in Backup" in the middle column.

Select Save to export and recover the PDF to your computer.

Decipher Backup Browser runs on any Mac or Windows computer and when you use the program all your data is private on your PC. The user is in complete control. Here's a screenshot example of how the program will instantly display any PDF files contained in your iPhone or iPad backup: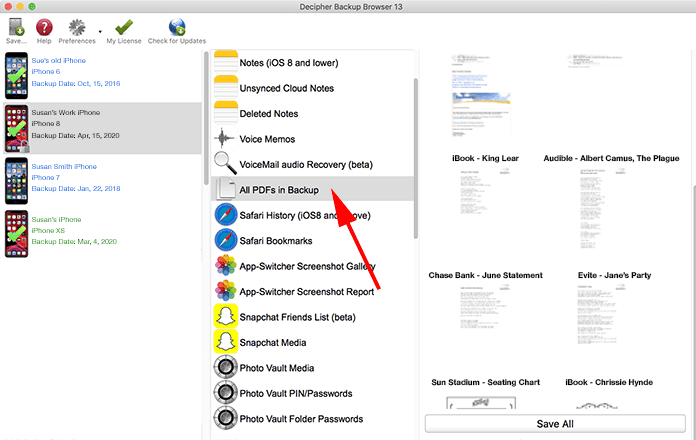 You can give the free trial of Decipher Backup Browser a test drive on your computer to see if you have any recoverable PDF files in your iPhone or iPad backup.
If we can help, please contact us with any questions via our Decipher Tools support page and we'll be happy to reply.