Five circumstances where you need to print and save text messages
No ratings yet.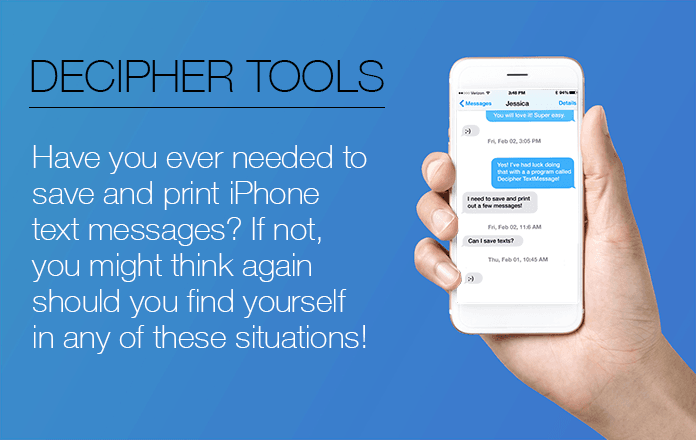 In today's digital age, almost everyone sends and receives text messages on a daily basis. Whether messages are being sent between family and friends or business partners and work colleagues, text messaging has evolved to become one of our primary forms of communication. According to Forbes Magazine, over 16 million text messages are sent every minute of the day! Based on those statistics, at some point in almost everyone's life, there will be a circumstance that brings about the sudden need to capture, print, and save text messages.
Five life circumstances where you might need to save and print iPhone text messages
1. When a loved one or family member dies
Anytime someone loses a loved one or a close friend, there is often a need to suddenly save and archive memories and correspondences that one has had with the person who died. By making sure your own text messages are backed up and saved to your computer, it will guarantee that all your text messages and SMS conversations with friends and family are safely archived.
Also, should you have access to the mobile phone of your family member or friend who has passed away, you can back up their device and export all their text messages and print them out to ensure you have copies of the text messages and iMessages forever. Here are detailed steps on how to transfer the text messages from your iPhone to computer and get them printed out in PDF format.
Losing a loved one is traumatic, however being able to capture the text messages and memories that you've had with that person brings relief knowing that the memories will be properly saved and archived forever.
2. For court, trial, or other legal related matters
For anyone involved in a legal proceeding, most lawyers and attorneys today will inquire as to whether or not there are any text messages that pertain to the matter at hand.
If there are text messages that can be used for evidence purposes, chances are your attorney or solicitor will want you to print out copies of the text messages and have them readily available in PDF format.
Should you find yourself in this situation, our helpful blog post about Documenting Text Message for Trial or Legal Matters will hopefully be of assistance.
3. Divorce or separation
During any painful divorce process, each party's attorney will regularly request print outs of text messages if the SMS messages pertain to the separation or divorce. This is also very common for custody hearings and disputes amongst couples or family members.
Here's our guide to exporting and printing text messages for divorce or separation which will hopefully be of use for your needs. If you are going through a separation or divorce, we also encourage you to regularly back up your iPhone or iPad so that you always have access to any text message or iMessage conversations with the other party involved.
4. Business negotiations
Employees at all types of companies worldwide often find themselves on the receiving end of text messages related to company business. Especially as more and more companies are requiring that employees work from home. Sometimes messages might be from a boss or superior and other times the messages are from co-workers or subordinates.
Regardless of the situation, when text messages about business or company related matters are exchanged, it's becoming common place to backup and save work related texts in the event that they are ever needed for reference or human resources.
Make sure you have backed up and saved any important work text messages in case a situation arises at the where you need to reference any past work related text messages communications.
5. Courtship
Many courtships and relationships start with some initial texts of "Hi, I'm really looking forward to meeting you tonight!" From there, a relationship often blossoms and most courtships build up a lot of memories and history via text and SMS message conversations.
Sometimes people decide to document and save the text messages since the text messages serve as a romantic memento and timeline of the first weeks and months of a relationship. Some couples even print out their courtship messages and use them as part of a marriage proposal or a wedding scrapbook.
If you find that you only have a small number of text messages that you want to copy or save, you might simply prefer to take screenshots of the messages. This is a quick way to capture the texts in picture format. However, if there are more than just a few messages, the screenshot method can become a bit cumbersome. For users who want to capture a long history of messages, Decipher TextMessage is a great solution for being able to save transfer, print, and PDF the text messages.
Below is an example screenshot of how your iPhone text messages are displayed and presented in Decipher TextMessage. You simply select a device, choose and contact, and then you can export all the messages both sent and received!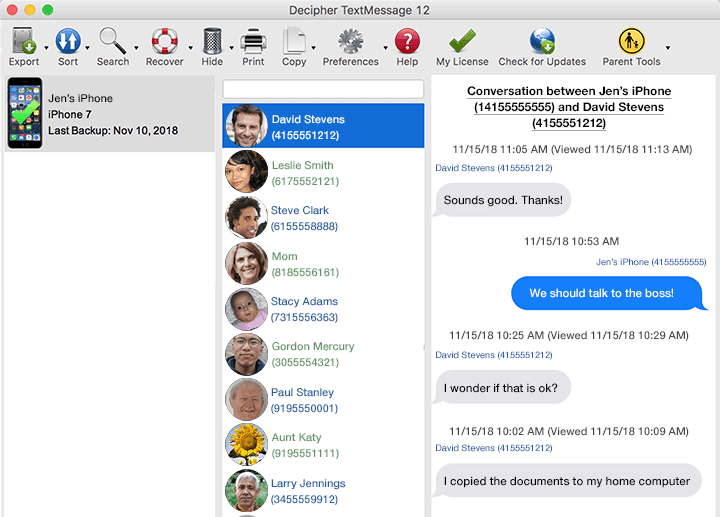 Most couples will agree that it's a great to be able to save the text messages from their courtship period, even just for memory sake or to have to down the road to show their children or future generations of family.

Download Decipher Text Message


Video instructions to save and print text messages from iPhone
Here is a helpful video tutorial that will walk you through the steps of how to save and print text messages from your iPhone on any Windows or Mac computer.
Conclusion - Be prepared
You never know when a situation will occur when you suddenly need to take charge of your iPhone text message and iMessage data. You can prepare ahead of time for this day by making sure you backup your iPhone on a regular basis! This will ensure that, when the times comes and you need to print or save text messages, that all your iPhone data is safe and accessible!