We might be able to help you fix your iTunes backup!
I've been seeing the iTunes error message "iTunes could not restore the iPhone because the backup was corrupt or not compatible with the iphone that is being restored." A LOT lately, since I am working on a program that modifies iTunes backups. It made me wonder: how often are people seeing this message when they're just trying to restore a normal backup?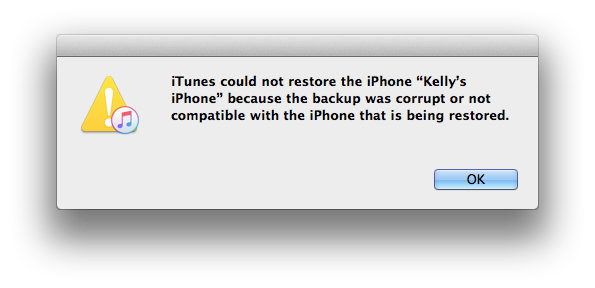 I assume since you've stumbled on this article, you're seeing this error message, and you're wanting to restore your iPhone1 backup in iTunes. We're thinking of offering a program that will "repair" a backup that gets this error while trying to restore2.
If you'd like to try out such a program, let us know. Contact us through our support page, and say that you have a corrupted backup that you'd like to try to fix. Please be sure to select your operating system on the form so we can send you an appropriate version!
Or, if you are in need of data from this backup, you can get the files from your iPhone backup with Decipher Backup Browser or just get specific things like your contacts, camera roll, voice memos, and more.