After trading in your iPhone for a new iPhone 6, or resetting your phone to resolve some issues, you go into iTunes to restore your backup and see this: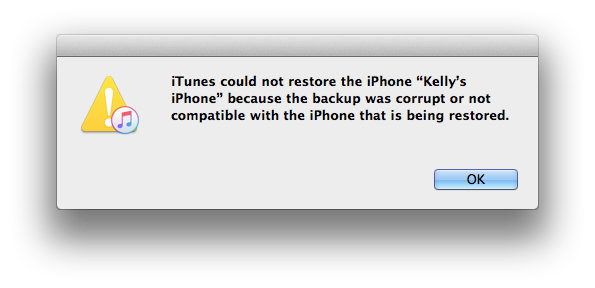 What made my iPhone backup corrupt?
Here are some of the common causes for corrupt iPhone backups:
Corruptions can occur when you adjust your backup encryption settings.

Corruptions can occur due to hard drive failures or USB communication errors. (This is the one error that I would legitimately call a "corrupt" backup, since it actually involves broken files on the hard drive. These kind of corruptions are fixed using Decipher Backup Repair's "Advanced Repair" feature.)

Corruptions can occur due to very long filenames, or filenames with too many emoji (or any extended unicode) characters.

Corruptions can occur due to various glitches in iTunes and the iOS backup process.
I tried an older backup, and it was corrupt too. Are they all broken?
This is a common question for Mac users who use Time Machine to backup their iPhone backups made in iTunes. iTunes reuses the same backup over time, updating it with changes since the previous backup. This incremental backup is great because it makes the backup process fast, but a problematic backup may stay broken throughout many different backups.