Why is my iPhone backup corrupt? (And How To Fix It)
No ratings yet.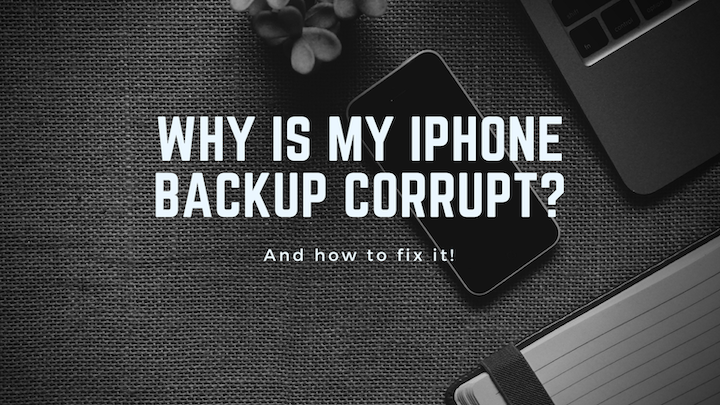 After trading in your iPhone for a new iPhone X, or resetting your phone to fix some issues, you open iTunes to restore your backup and see a nasty message saying "iTunes could not restore the iPhone because the backup was corrupt or not compatible with the iPhone that is being restored."

If you're more of a "get it done" kind of person, here's the takeaways before we get into the causes of broken backups:
I need to restore a corrupt iPhone backup:
If you have a corrupt iPhone, iPad, or iPod backup that you need to restore, you can use Decipher Backup Repair to fix the corrupt iPhone backup. This post has a step-by-step tutorial on how to fix the iPhone backup corrupt message in iTunes using Decipher Backup Repair.
I need to make a backup and I keep getting the corrupt backup error:
If you are just trying to make a backup, here are some instructions on how to erase the old backup that is causing errors in iTunes as well as some suggestions on settings you can change to help fix iPhone backup errors.
What made my iPhone backup corrupt?
Rapidly changing your iPhone encryption password repeatedly can cause iPhone backup encryption bugs leading to corrupt backups.

In older versions of iOS, canceling and restarting encrypted iPhone backups also lead to corrupt encryption keys.

Hard drive failures or USB communication errors. (This is the one error that I would legitimately call a "corrupt" backup, since it actually involves broken files on the hard drive. These kind of corrupt iPhone backups are fixed using Decipher Backup Repair's "Advanced Repair" feature.)

Very long filenames, or in a few versions of iOS 10, some unicode characters in the filenames can trigger a corrupt backup.

Additional bugs in the iPhone backup process, restore process, or iTunes. This is an ever-changing landscape in every iOS and iTunes update.
I tried an older backup, and it was corrupt too. Are they all broken?
This is a common question for Mac users who use Time Machine to backup their iPhone backups made in iTunes. iTunes reuses the same backup over time, updating it with changes since the previous backup, in a process known as incremental backup.
Incremental backup is generally considered good because it's much faster than redoing all of the backup every time. If you think about what you store on your iPhone, most iPhones have gigabytes of photos in the camera roll or text message attachments that don't change between backups. To make the backup process go faster, an incremental backup skips copying those files that haven't changed since the last backup.
The risk to an incremental backup is that a glitch in some backed up files may stay broken throughout many different backups since that part of the backup doesn't need to be redone.