How to Recover Deleted Photos on iPhone - Mac or Windows
No ratings yet.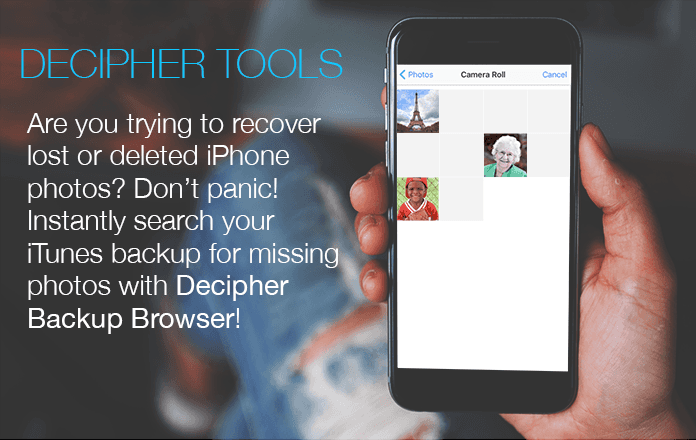 Today's instructions are designed to help any iPhone user quickly search both their iPhone and iTunes backup to see if lost or deleted photos can be recovered. Every year, our Decipher Tools staff here in San Francisco receives emails from iPhone users in a panic because their important pictures have been deleted from their camera roll.
According to Forbes Magazine, Apple's iPhone sales surged in the final quarter of 2020 to make the iPhone the best-selling smartphone in the world. With such a large amount of iPhones being used globally, many users experience data loss with missing or deleted camera roll pictures on a regular basis. Lost iPhone photos can happen to anyone and when the pictures are precious snapshots of family, friends, or other important events in one's life, a sinking feeling can quickly set in if there are no options to try and recover the deleted photos.
How to recover deleted photos from iPhone
Follow these steps to check the "Recently Deleted" photo album on your iPhone.
Step 1: Navigate to Photos on your iPhone.
Step 2: Select "Albums" and scroll down to the "Recently Deleted" option.
Step 3: Select deleted photos and choose "Recover" from lower right corner.
Step 4: Confirm the choice on your iPhone to finalize the recovery.
Step 5: Return and view the Photos Album to see recovered pictures restored to the camera roll.
Should you successfully find more than one deleted photo that you want to recover, Apple has detailed instructions on how to retrieve multiple photos at the same time from the "Recently Deleted" folder. Here's an example of how the "Recently Deleted" folder appears on an iPhone: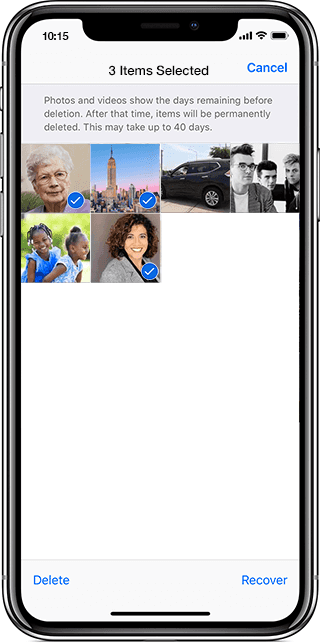 Search your iTunes backup for deleted photos
Another great method to recover deleted iPhone photos is to search your iTunes backups for the lost pictures. Many times there are often copies of lost or deleted photos contained in an older backup on your computer that you didn't even know were there!
One easy and convenient way to quickly search for deleted iPhone photos is with Decipher Backup Browser. The software runs on your computer and will read in all the previous backups on your Windows or Mac. Users can then instantly select the "camera roll" option or "all photos and videos" option in the program to immediately browse and see every photo contained in the backup and that is recoverable!

Download Decipher Backup Browser

How to recover and save deleted photos from an iTunes backup
Follow these specific steps to recover deleted photos from an iPhone or iTunes backup:
| | |
| --- | --- |
| Step 1: | Launch Decipher Backup Browser. |
| Step 2: | Select an iTunes backup in the left-hand column. |
| Step 3: | Select "Camera Roll Gallery." |
| Step 4: | Browse deleted photos that you hope to recover. |
| Step 5: | Click "Export" to extract deleted iPhone photos. |

You can see examples of these options in the helpful screenshot of Decipher Backup Browser below: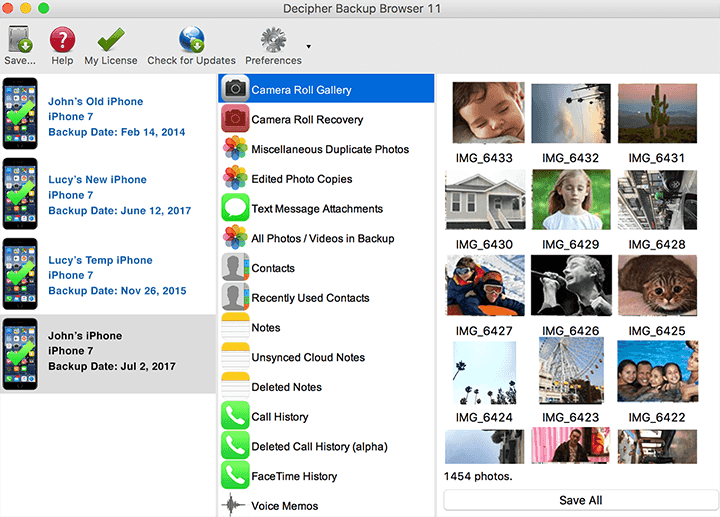 Any iPhone camera roll photos contained in your iTunes backup will immediately appear in the far-right column of Decipher Backup Browser. If you don't see any images in the Camera Roll section, you can also select some of the other photo recovery options that are available. These include, Camera Roll Recovery, Miscellaneous Duplicate Photos, Edited Photos Copies, All Photos / Thumbnails, and Text Message Attachments.
Decipher Backup Browser will automatically read in all of your iTunes backups on your computer. If there is an older backup that you don't see in the software, give some thought as to whether you have possibly moved the backup to an external hard drive to free up space or if it is perhaps located on a different or older computer. Decipher Backup Browser can be downloaded on as many computers as you like should you want to install the program on another machine to see if there are older iTunes backups present that might contain missing or lost iPhone camera roll photos!
How do iPhone photos get deleted?
There are many reasons iPhone photos become deleted or lost. Some of the main culprits include:
User Error - Photos are accidentally erased while browsing through the camera roll. Also, users often delete photos not realizing they might need the pictures at some point the future.
Lost, Damaged, or Stolen iPhone or iPad - Unless you hopefully backed up before the device went missing, there is usually no way to recover the lost iOS photos.
Upgrading to a new iOS - New iOS updates can be buggy and sometimes errors can occur during the upgrade process which cause the camera roll and other data on the device to be erased.
Restoring an iPhone or iPad - Restoring from a backup replaces all the data on the device with the data that is contained in the backup. Photos can get lost or overwritten during this process if a user is not careful!
Corrupt iTunes Backup - When restoring a backup, iPhone users sometimes encounter the dreaded "iTunes could not back up the device because the backup was corrupt or not compatible" error message. Corrupt iOS errors often cause data, including iPhone photos, to become deleted or inaccessible.
That wraps it up for today's Decipher Tools tutorial steps on how to recover deleted iPhone photos. If you have any questions or ever need help, feel free to contact us via email. We're USA based in San Francisco and Phoenix and we always do our best to respond to everyone!