How do I Read Backups From an External Hard Drive?
Rated (5.0 of 5.0) by 2 reviewers.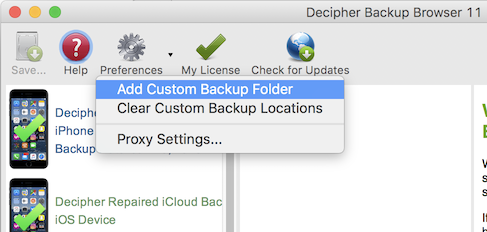 All of the Decipher Tools software looks in the iTunes backup folder for iPhone/iPad backups automatically. If you would like to read backups from another location, such as an external drive or another folder on the computer, you can add more locations to look for iPhone backup locations.
To read iPhone Backups from another location:
Click Preferences > "Add Custom Backup Folder".

Select the folder where you have more iPhone backups.

Close and re-open the program for the change to take effect.
In order to more easily read in a lot of backups, rather than selecting a single backup itself (the folder that is the backup), Decipher TextMessage/Backup Browser/VoiceMail asks for the containing folder where you're storing the backups. So if you have a single backup stored in an external drive E:\Copied Backups\My Single Backup, you'll want to select E:\Copied Backups as your custom backup folder to look in.